England v Australia: Ravi Bopara pleased by flow of innings
Last updated on .From the section Cricket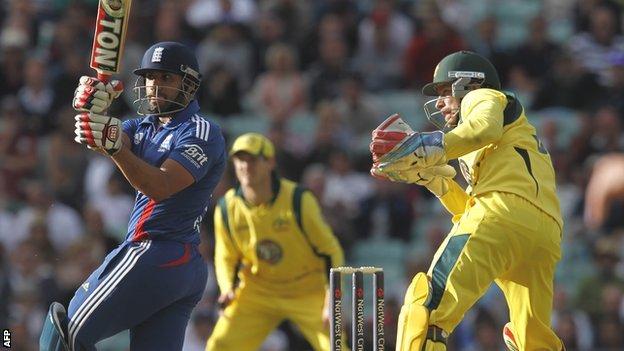 Ravi Bopara was pleased with the fluency of his innings after helping England to victory over Australia in the second one-day international.
The man-of-the-match fell two runs short of victory, run out for 82 off 85 deliveries, as England cruised to a six wicket win to go 2-0 up in the series.
"It was nice to get some runs and get that flow I've been seeking," he told BBC Sport. "It went really well.
"Belly [Ian Bell] batted really well and supported me up the other end."
Bell continued his fine form with 75 and the pair added 90 to put England firmly in control at The Oval, with Bopara describing the partnership as "very satisfying".
"We talked all the way through about going up in increments of five and that worked very well for us," added the 27-year-old Essex batsman.
"We weren't thinking about any scoring rates or anything, just thinking about going up in fives and it worked really well."
Bopara also chipped in with a wicket, much to his delight as a part-time bowler.
"I just heard Cooky [captain Alastair Cook] say we've got five experienced bowlers and I was chirping behind him, saying 'six'!" smiled Bopara.
"The wicket plays a major part in whether I bowl or not - the wicket was perfectly suited for my bowling today."
England captain Cook was pleased with what he described as another "solid performance".
"We got off to a good start - Ian Bell and Ravi played really well," said Cook.
"It's great seeing the batters sticking their hands up and scoring the runs and not leaving it to someone else.
"As a captain of a side, our big team ethos is just to take the next game.
"Australia are a really good side, we put in two really solid performances to win [ the first two ODIs] and we're going to have to make sure we do the same again at Edgbaston [in the third ODI]."
Cook said he thought England "bowled really well, especially from about 25 overs on to about 35", and Australia captain Michael Clarke agreed that his side's struggle in the middle of their innings had contributed to the defeat.
"We lost wickets at crucial times again and we were quite sluggish through the middle period. I thought Graeme Swann bowled really well," said Clarke.
"One area of our game we have to look to improve is rotating the strike. We've spoken about it and probably have to get better at it.
"We need to improve with both bat and ball so I certainly don't want to blame the bowlers for our loss today."