Scotland announce team to face Canada in ICC tie
Last updated on .From the section Cricket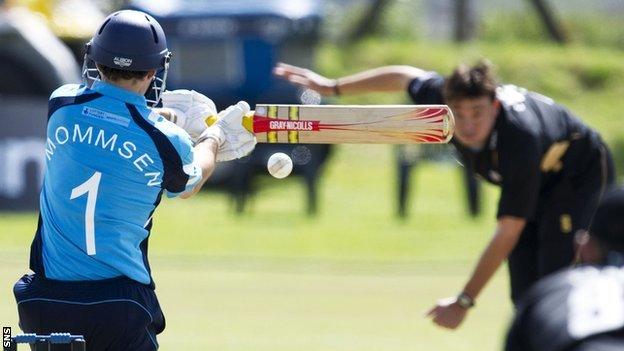 Scotland have named several English county players in their squads to face Canada in their Intercontinental Cup and World Cricket League matches.
Both squads feature Preston Mommsen of Leicestershire, Derbyshire's Alisdair Evans and Northants' Calum MacLeod.
MacLeod's team-mate, Kyle Coetzer, is only available for the league matches because of county commitments.
Captain Gordon Drummond said: "We have a decent record against Canada and are confident of coming out on top."
The Intercontinental Cup tie takes place at Uddingston from 4-7 July, while the two World Cricket League matches are at the Citylets Grange, Edinburgh, on 9 and 11 July.
"We are looking to continue where we left off in the UAE in the Intercontinental Cup where we had a comfortable victory," said Drummond.
"Another victory would push us close to the top of the table and give us a shout at reaching the final once again.
"In the World Cricket League, after a couple of disappointing results against the UAE, we will be looking to get back to winning ways with two matches against the same opposition.
"These are obviously massive matches if we are going to reach the 2015 World Cup."
Intercontinental Cup 4-7 July 2012: Uddingston
Scotland
Gordon Drummond (captain), Ryan Flannigan, Matthew Parker, Alisdair Evans, Richard Berrington, Majid Haq, Simon Smith, Gordon Goudie, Preston Mommsen, Calum MacLeod, Ewan Chalmers, Jan Stander, Moneeb Iqbal, Joshua Davey
Canada
Jimmy Hansra, Rizwan Cheema, Hiral Patel, Nitish Kumar, Junaid Siddiqui, Henry Osinde, Usman Limbada, Zeeshan Siddiqui, Jason Sandher, Durand Sorraine, Jeremy Gordon, Parth Desai, Parvin Soroye, Damodar Daesrath
World Cricket League 9/11 July: The Citylets Grange, Edinburgh Scotland
Gordon Drummond (captain), Ryan Flannigan, Matthew Parker, Alisdair Evans, Richard Berrington, Majid Haq, Craig Wallace, Gordon Goudie, Preston Mommsen, Calum MacLeod, Jan Stander, Kyle Coetzer, Fraser Watts, Joshua Davey
Canada
Jimmy Hansra, Rizwan Cheema, Hiral Patel, Ruvindu Gunasekera, Nitish Kumar, Junaid Siddiqui, Henry Osinde, Usman Limbada, Zeeshan Siddiqui, Durand Sorraine, Jeremy Gordon, Parth Desai, Parvin Soroye, Damoder Daesrath