Alec Stewart column: Ashes rivalry - less should be more

By Alec Stewart
Former England captain and BBC Radio 5 live summariser
Last updated on .From the section Cricket50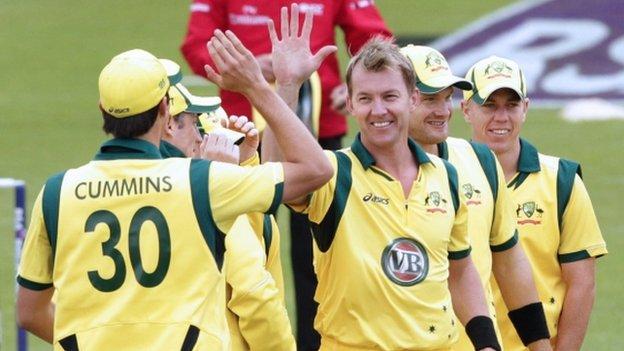 Congratulations to England on their one-day and Twenty20 victories over the West Indies.
After the relatively straightforward Test series success, I certainly thought it would be a much tougher task with the arrival of the West Indies' Indian Premier League stars, but England were clinical and totally outplayed the tourists.
Next up, we have Australia in what should be a much more difficult assignment for this England side, but before we analyse their chances, let's just address the question of whether this series should be taking place at all.
I fully appreciate the financial incentives of staging five one-day internationals, which are worth far more to the England and Wales Cricket Board's (ECB) coffers than a Test match.
I also understand it's a reciprocal arrangement to allow England to play in a triangular series in Australia before the 2015 World Cup and we should not underestimate the importance of improving our chances of success in a global competition that we have never won.
However, from a pure cricketing point of view, I would much rather see an extra Test match or two against South Africa. This is a major series between numbers one and two in the world rankings and it would be good to have competed over at least four - and ideally five - Tests to do justice to the quality of the teams.
The other danger is that by playing Australia again in this format after only last hosting them in 2010, are we seeing too much of the old enemy and thus running the risk of diluting the Ashes in 12 months' time?
I have always believed that less is more and I just hope we do not lose some of the excitement and anticipation that builds in the run-up to an Ashes series.
The ECB has a difficult balancing act in weighing up what is best for the England cricket team in all forms of the game, what is best for the finances of the board and what is best for the public.
Limited-overs matches currently do tend to sell out grounds and in doing so help provide much-needed financial assistance to the game from top to bottom, but in choosing to stage 14 of them this summer, is that balance slightly wrong?
England have shown that in home conditions they are a pretty strong force, their batsmen and bowlers adapting well to the challenge posed by the two white balls.
I was delighted to see Ian Bell silence a few of his less-informed critics with a couple of excellent knocks against the West Indies, while Alastair Cook, another player whose one-day credentials were questioned when he was appointed captain of the 50-over team, continues to goes from strength to strength.
I've always wished for people to focus as much on what individuals can do, rather than just what they perceive to be their weaknesses.
Australia are top of the one-day rankings and will present a stiff challenge under the leadership of Michael Clarke, whose game seems to have gone to another level since taking over the captaincy.
David Warner can be a very destructive batsman at the top of the order, while the young bowlers Pat Cummins and James Pattinson have made impressive starts to their international careers.
I don't see it as a huge advantage or disadvantage for England to be having a look at their two new quick bowlers a year out from the next Ashes series, as it also allows Cummins and Pattinson to gain some valuable experience of English conditions.
The Ashes are still 12 months away, but whoever wins this series will feel as though they have landed the first punch.