DRS in cricket: 'Mandatory' system supported by ICC
Last updated on .From the section Cricket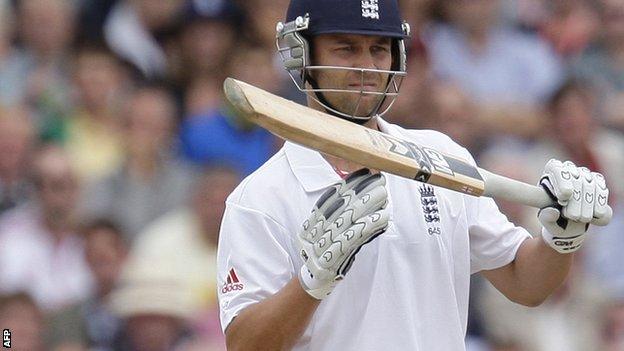 The Decision Review System (DRS) has been recommended for mandatory use by the International Cricket Council (ICC) chief executives committee.
Despite the objections of India, the proposal for compulsory DRS will now be considered by the ICC board.
Optional DRS has caused controversy with India refusing to use it during their tour of England in 2011.
The committee said tests had proved DRS's reliability, which uses ball-tracking and "hotspot" thermal imaging.
ICC chief executive Haroon Lorgat said in a statement: "We have made good progress in independently testing ball-tracking."
DRS would be used in all Test matches and one-day internationals, provided host countries can afford the equipment. The proposal will be considered at an ICC board meeting on Tuesday and Wednesday in Kuala Lumpur.
On Sunday, Pakistan coach Dav Whatmore complained about the absence of DRS in the first Test against Sri Lanka after umpiring errors.
The chief executives have also supported the introduction of day-night Tests, as long as both teams agree, and if the ICC can provide a suitable ball.