England v Australia: David Warner Ashes-watch

By Sam Sheringham
BBC Sport at Lord's
Last updated on .From the section Cricket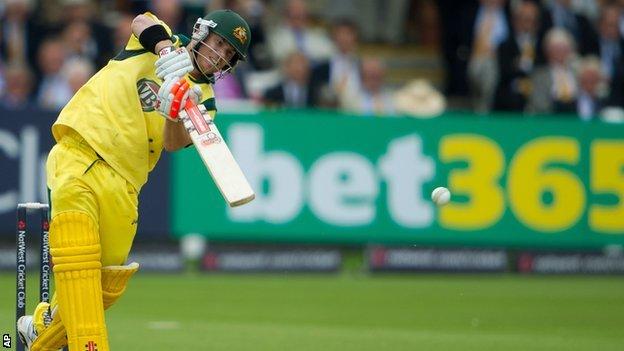 Right now, England's one-day series against Australia may seem like sporting overkill.
In a summer featuring a European Championship, Olympic Games, Wimbledon and a Test series against South Africa, it's probably a fair way down your average sport's fan's pecking order.
But fast forward 12 months and the English sporting summer will be dominated by the Ashes, the nation gripped by the latest installment of cricket's greatest rivalry.
Australia's one-day side features several young players eager to prove themselves in English conditions and book themselves a place in the Ashes squad.
One by one, we'll be analysing their performances and asking BBC Test Match Special pundits to assess their potential impact next summer.
First up is left-handed opening batsman David Warner, with analysis from his former team-mate and opponent Dirk Nannes.
The story so far
Warner announced himself in international cricket with 89 from 43 balls on his Twenty20 debut against South Africa at the MCG in 2009 having become the first man to appear for Australia before playing first-class cricket since 1877.
A big-hitting left-hander, he has gone on to establish himself at the top of the Baggy Green order in all forms of cricket, scoring a blistering 180 off 159 balls against India in the third Test at Perth in January and back-to back ODI hundreds against Sri Lanka in March.
How did he get on?
Warner's first appearance against England was an eye-catching 56 in the featuring six fours and one almighty six.
What he lacks in height at 5ft 7ins, he makes up for in power and he looked anxious to get the scoreboard moving as he played and missed three times attempting huge cover drives in the first three overs.
His first boundary came from a back-foot drive off Steve Finn and he followed it up with a meaty square cut to the fence.
Tim Bresnan was savagely clubbed over his head for a one-bounce four and when the same bowler served up a long-hop, Warner swivelled and hoiked the ball the fence.
Graeme Swann used all his nous to keep Warner briefly at bay, but a short ball from Stuart Broad was all he needed to break the shackles and he pulled it mightily into the Tavern Stand.
Warner brought up his fifty off 57 balls, but just when he was threatening to take control of the mtach, a loose drive at Anderson was superbly taken by a diving Craig Kieswetter behind the stumps.
BBC Test Match Special's Dirk Nannes: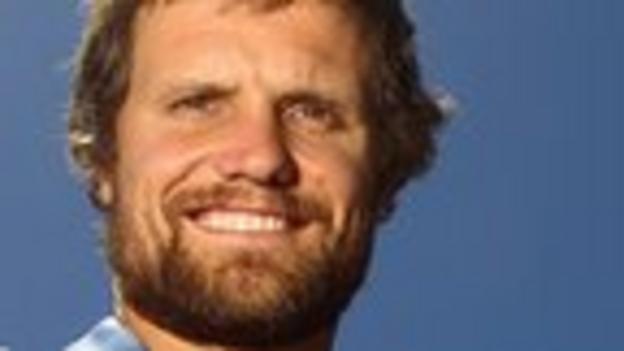 "I have played with David for Delhi in the IPL and against him in Australian domestic cricket.
"When he first started it was all or nothing, fifty off thirty balls or out for a duck. But he has changed a lot, he has more of a defensive game and understands his cricket.
"Like most cricketers he enjoys having a good time, but since he took up Test cricket he has really changed the way he goes about it. I think Michael Clarke has had a word with him and he is really committed to the cause now and has a bright future.
"He's a fighter, he's got a few weaknesses but he is learning to master them and I think he will play a lot of Test cricket for Australia.
"A lot of people say pumped-up big-hitting players never turn that talent into runs, but he is someone who I think will do it.
"I'm not sure if he has the same intimidating quality that Matthew Hayden had. Hayden used to walk down the wicket to bowlers and you would be intimidated by what he was going to do. Warner is a bit more predictable and doesn't quite have that stature, but boy can he hit a ball.
"Warner changes the way the Australia top and middle order is perceived. Rather than being a nicker and nudger, he can blast a bad ball at any time of the innings and has a lot about his game. He brings a lot more presence to the top of the order than Australia have had in the past.
"He also has incredible mental strength. I've seen a lot of him and I've never seen him crack under pressure.
"Even if he's down on form, he brings a lot of physical presence and a lot of energy into the team, which Australia have lacked in the last couple of Ashes series."