Johann Myburgh start impresses Durham coach Geoff Cook
Last updated on .From the section Cricket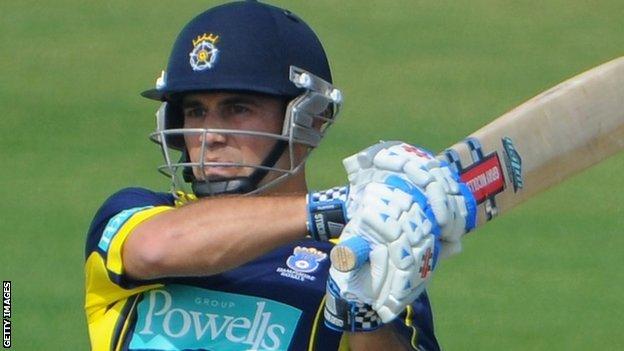 Durham head coach Geoff Cook has been impressed by the introduction of South African batsman Johann Myburgh to the county's Twenty20 squad.
"He's a very bright cricketer," Cook told BBC Newcastle.
"He's got a good record in limited over and first-class cricket all over the world, he works the game out well."
Myburgh's first outing for the Dynamos saw him make 10 as Cook's side opened up their FL t20 campaign with a two-run win against Yorkshire at Headingley.
"He's nimble between the wickets, nimble on his feet but can hit some big shots too and he's a good combination," Cook added.
"It was nice for him to spend a bit of time at the crease and make a reasonable impression."
In contrast, Myburgh's compatriot Herschelle Gibbs has failed to make his mark in Durham's first two games.
Gibbs, 38, made eight runs in two games as opener for Cook's side, having struck 45 for the seconds against Lancashire at Gosforth.
"Going in first it's a double-edged sword," Cook added.
"You have the advantage of a hard ball and fielding restrictions, so if things are going your way then lots of things are in your favour.
"But there's a bit of pressure on you to get the ball moving and you generally look to get around the 50-mark in the first six or seven overs in T20 cricket.
"Those batsmen have to take one or two risks and Herschelle's fallen foul of that."