Alec Stewart: Tom Maynard could have reached the very top

By Alec Stewart
Surrey Executive Director and BBC Radio 5 live summariser
Last updated on .From the section Cricket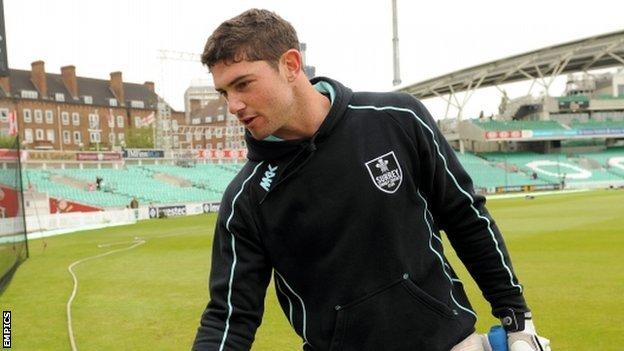 I got a phone call first thing this morning informing me of the and it knocked me sideways.
He was just 23 years old and my heartfelt sympathies go out to his family.
Tom had only been at The Oval for 18 months after joining us from Glamorgan, but in that short time he had become a hugely popular figure within the dressing room and around the club.
He had an infectious personality and was particularly close to our captain Rory Hamilton-Brown because they had been at school together. He was very generous and people spoke of him in glowing terms.
It seems churlish to talk about his cricket after such shocking news, but I appreciate people want to know about his talent.
I remember meeting Tom a few years ago during a holiday in Dubai when he and his father Matt Maynard - a good friend of mine from our England days - happened to be staying at the same hotel.
Tom must have been about 17, but he was putting in the hard yards in the gym. Even back then, he knew where he wanted to go and that may well have been to the very top.
Tom was a very good trainer and a quick learner who did nothing by half-measures. It was all about getting the best out of what talent and ability he had been given.
He was an attacking, aggressive batsman and excellent fielder who enjoyed taking responsibility and playing to the situation, whether it was one-day or four-day cricket.
Having toured with England Lions last winter, he was being talked about in England circles and if the selectors were picking a one-day squad of 20 players, rather than 14, he would have been in it.
I have spoken to some of the Surrey players and management and it is difficult to put into words the sense of loss currently pervading the club.
He is the third cricketer we have lost in 15 years after Graham Kersey and Ben Hollioake were killed in car accidents in Australia.
Everyone is feeling horribly numb and empty.
Only time will tell how the club moves on from this, but, for now, everyone needs time to grieve in their own way.
Our Twenty20 game against Hampshire on Wednesday has been called off, while Surrey bowler Jade Dernbach has on compassionate grounds.
I imagine the rest of the England players have also been hit hard by the news, as many of them will have played with Tom or against him.
There will be a very sombre atmosphere at The Oval tomorrow for the second one-day international against West Indies. Cricket is a family and a member of that family has been lost.