Danish Kaneria gets ECB life ban for corrupting Mervyn Westfield
Last updated on .From the section Cricket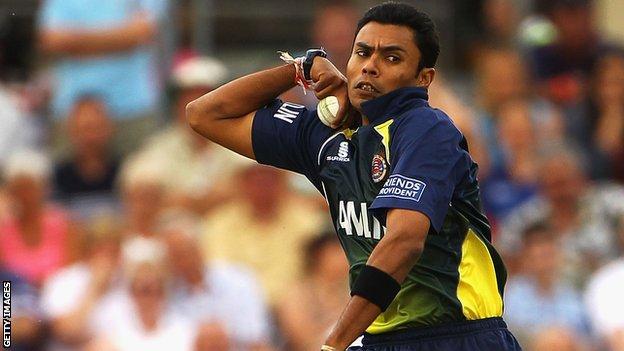 Danish Kaneria has been banned for life from playing in England and Wales after being found guilty of corruption.
The Pakistan leg-spinner, 31, encouraged former Essex team-mate Mervyn Westfield to spot-fix.
Westfield was jailed for four months in February for deliberately bowling badly in a CB40 game against Durham in 2009.
The International Cricket Council (ICC) recommended that the ban imposed by the England and Wales Cricket Board (ECB) should be implemented worldwide.
Pace bowler Westfield, 24, who has since been released from prison, pleaded guilty to the charge of accepting money to underperform.
He has been banned for five years but can play club cricket in the final two years of the suspension.
Kaneria's ban comes into effect immediately, while Westfield's suspension is backdated to 17 February, when he was sentenced. Neither has played county cricket since 2010.
"I will ask the board to remind all members to put in place appropriate mechanisms to ensure that the sanctions imposed on both players in this case are appropriately recognised and respected outside of the ECB's domestic jurisdiction," said ICC chief executive Haroon Lorgat.
During Westfield's trial, Judge Anthony Morris said the scam had been orchestrated by Kaneria, who spent six seasons at Essex from 2004.
But Kaneria, who played 61 Tests and 18 one-day internationals between 2000 and 2010, was never charged by the police on the grounds of insufficient evidence.
Both players were charged by the ECB in April for "alleged breaches of the ECB's anti-corruption directives".
The ECB disciplinary panel concluded that Kaneria:
• acted as a recruiter of spot-fixers
• approached a number of what he saw as potential targets at Essex
• cajoled and pressurised Westfield into becoming involved, knowing he was young and vulnerable
• was present when Westfield received his payment for underperforming.
In handing down the punishment, the panel said: "Kaneria has made no admission, has shown no remorse and sought to cast blame on other plainly innocent persons.
"We regard him as a grave danger to the game of cricket and we must take every appropriate step to protect our game from his corrupt activities.
"Self evidently, corruption, specifically spot-fixing, in cricket or any other sport for that matter, is a cancer that eats at the health and very existence of the game.
"For the general public, supporting the game and their team within it, there is no merit or motivation to expend time, money or effort to watch a match whose integrity may be in doubt. The consequences of the public's disengagement from cricket would be catastrophic."
ECB chairman Giles Clarke told BBC Radio 5 live: "If somebody is found guilty of this sort of thing in a match in England that is a very sad day for cricket.
"All of us involved in this game, be it here or in other parts of the word, need to have a long, hard look at the judgment and make sure we don't have this kind of thing happening again.
"In anything where this type of things goes on, where young men are abused and are foolish, we need to do something to stop it. I want to get something out to those who are abusing them as well - we'll get you too."
However Kaneria has maintained his innocence and said he will appeal against the sentence. He told Sky Sports: "I'm very upset about this decision. They don't have any proof against me.
"I'm an honest man. I've been playing cricket with passion and love. I have done nothing wrong."
Kaneria's ban comes the day after Pakistan captain and former team-mate having served seven months of a 30-month sentence for spot-fixing.
Butt was jailed with seamers Mohammad Asif and Mohammad Amir for conspiring to bowl deliberate no-balls against England in the 2010 Lord's Test.
All three were also given five-year playing bans, which they are appealing against.
BBC cricket correspondent Jonathan Agnew said: "As we've seen in the past, it is very difficult to convict people for match-fixing and spot-betting, but cricket is taking a lead in trying to stamp out corruption from the sport.
"It is not difficult to induce players to take payments; it is not difficult to underperform. Cricket is very vulnerable to this, so it is very important we stamp this out."