Jonathan Agnew column: Ramdin disrespectful to Sir Viv Richards

By Jonathan Agnew
BBC Cricket correspondent at Edgbaston
Last updated on .From the section Cricket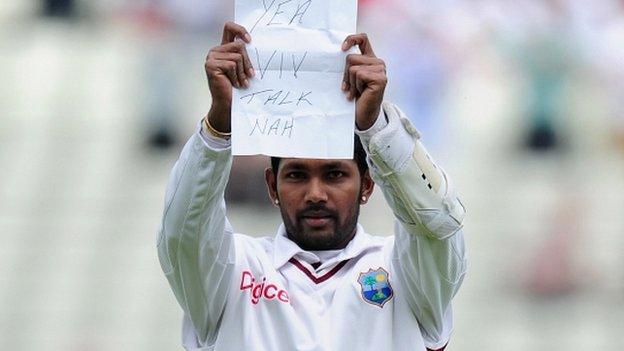 People say the game lacks characters, and perhaps there aren't too many obvious characters around, but my word Tino Best certainly is one.
His innings made sure that West Indies had no prospect of losing, which, at the start of the day, looked the most likely way this game could conjure up a result.
It started off as a bit of fun, but he then played more sensibly after reaching 50. Unfortunately, when he got into the 90s, the reality of the situation gripped him and he got out to an unnecessary slog.
His innings again exposed the frailties in this England side, which is without the rested James Anderson and Stuart Broad.
Resting players says a lot about the the message you want your team to send, what you think about the opposition and the match you are playing. Perhaps these things weren't considered when the decision was taken to rest Broad and Anderson. Put simply, England have been poor and there was no killer instinct.
England kept pitching it up and watching the ball disappear over their heads. Where was the hostility? The nastiness? Why not get a short leg in there and get the ball into Best's ribs? Why not try and blow him away? Andrew Strauss's side looked bereft of ideas.
To illustrate my point that England weren't at the races, at one o'clock, they headed for the dressing rooms, as they usually would.
However, they had not remembered that the playing regulations have recently been changed so that, if the last-wicket pair are together, lunch is delayed by 30 minutes.
Yes, the new regulations have not been enforced for long, but it said much about how England have not been at it during this match. It proves how dangerous a mindset it can be if you go into a Test at anything less than 100%.
Of course, Best's innings was not the only talking point on what was a surprisingly eventful day at Edgbaston.
Denesh Ramdin's decision to brandish a note directed at Sir Viv Richards after he reached his century was extraordinary and very churlish.
This is a man who has struggled with the bat for a long time and has not kept wicket well during this series. When a cricketer such as Richards observes that he hasn't produced the goods over years, Ramdin should take note.
In many ways, by making a hundred, he proved Viv's point that he hasn't been producing what he is capable of. To go to the lengths of having a note in his pocket and displaying it is a very disrespectful, silly thing to do. If he can't take constructive criticism from one of the greatest players of all time, he is not very grown up.
Later in the day, Kevin Pietersen missed the chance to make a century of his own, and he will be very disappointed to have edged Marlon Samuels to slip after reaching 78.
After the controversy surrounding his decision to retire from international limited-overs cricket, it was a very one-day style innings, a point that will not be lost on people.
I'm still hoping that there can be a common-sense route out of this mess, that would at least give him a chance of playing in the World Twenty20, although, if I'm honest, I can't see either side backing down.
Pietersen was batting with Ian Bell during a period when the players were on and off for bad light - it was a hopeless mess.
My answer to avoid this situation would be to ban lightmeters. The only question should be: "Is this dangerous to the batsman?" The answer to that can be changed depending on who is batting, who is bowling, if there is a new ball, an old ball.
All of these variables should be taken into account by the umpires in the middle. Those men should not just looking at a reading on a gadget.
A tail-ender facing a fast bowler with a new ball is more dangerous than a number four batsmen who is 60 not out facing an old ball. That's why the umpires must monitor the situation rather than be distracted by a reading on a lightmeter.
Listen to a review of the day's play on the Test Match Special podcast with Jonathan Agnew and Geoff Boycott