Jonathan Agnew column: England banish Abu Dhabi nightmare

By Jonathan Agnew
BBC cricket correspondent
Last updated on .From the section Cricket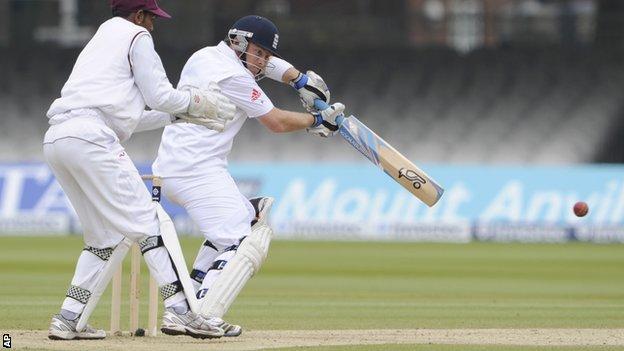 England will be pleased they because it means they overcame that awful nightmare of Abu Dhabi over the winter.
They got bogged down against Pakistan then and were bowled out for 72 chasing just 145 to win, but at Lord's today they played positively and didn't get themselves stuck.
Ian Bell and Alastair Cook batted very nicely together and it was a good finish to the game for England.
What was good about the game was that England were challenged. They will be glad they were challenged but they'll also look back at why they were challenged.
When Trott and Pietersen were out this morning, that was looking pretty dangerous for England.
There was every chance West Indies might win. If they'd got one more wicket, with Bairstow coming next, who knows?
I would say it was a workmanlike win for England. But it's always nice to win when you're pushed a bit, so that's a nice start to the summer.
Strauss, Cook and Bell got some runs and Broad, who by his own admission was not bowling very well this season, bowled beautifully to take 11 wickets.
From a West Indies perspective, they fought very hard in difficult conditions - conditions they won't have relished playing in at all.
Most people expected the game to end yesterday afternoon. Having interviewed Darren Sammy at the end of play, he'll be pretty happy with the show his side put up.
No team would like to have to come and bat against the England attack in early summer - they are the best attack in the world and formidable in their own conditions.
But there were very few of the hot-headed dismissals we have seen from West Indies on the last few tours and their batsmen generally took some prising out. They showed a real willingness and determination to stay there.
On the bowling front, I like the look of Kemar Roach - he has got some genuine pace.
When he ran in last night he was lively and he got a couple of wickets. I expect Trent Bridge to have a little bit more pace and bounce about it than this strip, so he will take some handling.
West Indies will also want to get Ravi Rampaul fit; he will bowl well in these conditions.
I think they'll look to play a spinner at Trent Bridge. It's much better if you have a spinner in your side - you're not expecting him to take five or six wickets but he provides something different, some variation.
They used Marlon Samuels quite a lot here and he's not a very good bowler - he haemorrhaged runs.
There's been a lot of talk of Chris Gayle and Ramnaresh Sarwan and bringing players back.
But West Indies seem to be going in a new direction. They did well here and I think they should keep going with the youngsters.
Listen to how the final day of the first Test unfolded on the TMS podcast.