Guernsey select side for Nottinghamshire T20 match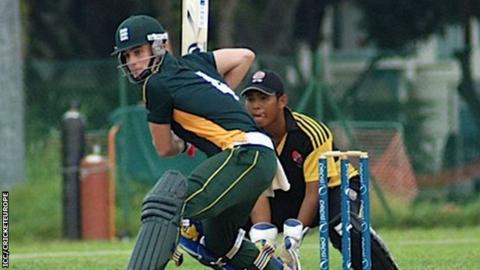 Guernsey have selected a number of new faces in their squad for their Twenty20 match with Nottinghamshire next week.
Youngsters Robbie Le Corre, Ollie Newey and Max Ellis are all included in the side which will take on an Outlaws XI at the KGV on Monday, 14 May.
The side will be skippered by Stuart le Prevost and contains nine players who helped Guernsey to third place in World Cricket League Division Five.
Notts have picked the likes of Chris Read, Michael Lumb and Rikki Wessels.
"It's a friendly game but it's high-profile opposition with two or three England T20 players in it, so we expect it to be competitive," Guernsey Cricket Board chief executive Mark Latter told BBC Sport.
Guernsey hope to host the 2013 European Twenty20 tournament, so Latter says any matches against first-class opposition are welcome.
This summer Guernsey's senior side are not involved in ICC tournaments after being promoted from World Cricket League Division Six in Singapore last September, and February's Division Five tournament in Indonesia.
Latter added: "This year we've tried to put together a number of high-profile games, so coming off Kuala Lumpur and Singapore they don't come down.
"We've got this game, the game against Canada on May 18 in Hove, and hopefully another couple of games against another high-power European nation in July."