No play is possible in County Championship due to rain
Last updated on .From the section Counties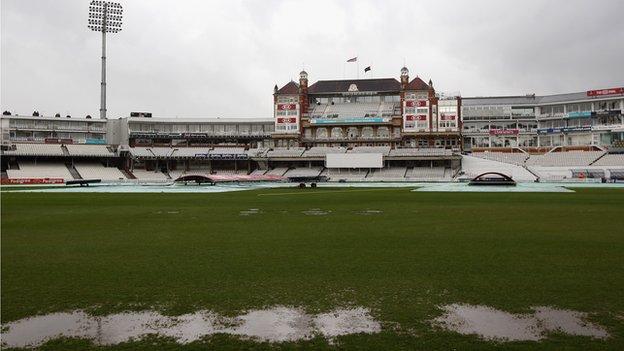 Champions Lancashire were among the casualties as the County Championship schedule was wiped out by rain.
No play was possible on the final day of all eight matches, including Lancashire's clash with Somerset.
The Division One games at Worcester, Hove and The Oval, where there was no play between Surrey and Durham on all four days, were also called off.
In Division Two, the game between Gloucestershire and Glamorgan was also a complete four-day wash-out.
Surrey's no-show was their first total washout at The Oval since the Championship clash against Sussex in 2007.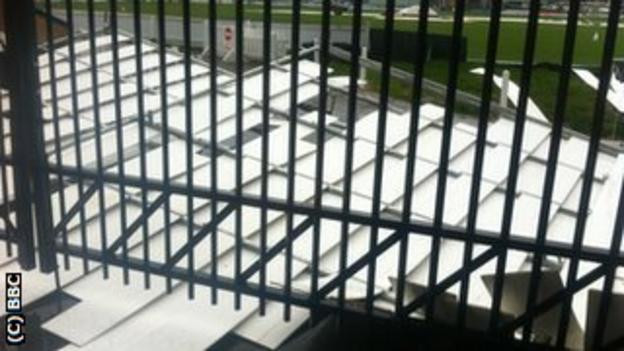 Sussex will need to carry out urgent repair work on the sight-screen at the sea end at Hove after it toppled over overnight, despite being tethered to the ground by eight millimetre-thick steel rope.
Three of the six steel posts holding it in place also sheered off during gale-force winds.
Worcestershire are set to go on flood watch after the abandonment of their match with Nottinghamshire at rain-battered New Road.
Club officials anticipate at least a 48-hour wait before the Severn, which flows directly past New Road, reaches its peak level.
The Severn has flooded New Road to devastating effect before, most recently in 2007.
County Championship Division One
Somerset v Lancashire - Somerset (6pts) drew with Lancashire (9pts).
Somerset: 87-3 (38.0 overs) v Lancashire: 400 (108.3 overs)
Surrey v Durham - Surrey (3pts) drew with Durham (3pts).
Sussex v Warwickshire - Sussex (5pts) drew with Warwickshire (8pts).
Sussex: 80-5 (38.1 overs) v Warwickshire: 545 (152.5 overs)
Worcestershire v Nottinghamshire - Worcestershire (6pts) drew with Nottinghamshire (7pts).
Worcestershire: 157 (67.5 overs) v Nottinghamshire: 243 & 88-2 (28.1 overs)
COUNTY CHAMPIONSHIP DIVISION ONE LEAGUE TABLE
County Championship Division Two
Essex v Northants - Essex (3pts) drew with Northamptonshire (5pts).
Essex: 54-6 (27.0 overs) v Northants
Gloucestershire v Glamorgan - Gloucestershire (3pts) drew with Glamorgan (3pts).
Hampshire v Leicestershire - Hampshire (7pts) drew with Leicestershire (5pts).
Hampshire: 217-4 (55.0 overs) v Leicestershire: 234 (99.2 overs)
Kent v Yorkshire - Kent (10pts) drew with Yorkshire (7pts).
Kent: 350-9 (105.5 overs) v Yorkshire: 247 (92.3 overs)