Matthew Mott believes dire start could benefit Glamorgan
Last updated on .From the section Cricket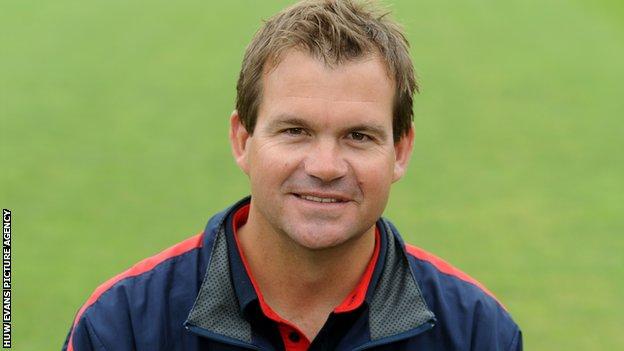 Glamorgan boss Matthew Mott claims his side's dire start to the season could work in their favour in the long term.
But Mott, the Glamorgan's elite performance director, is confident the side can turn things around.
"It could actually be a blessing. Teams might see us as less of a threat and we might get some run chases other teams are not be afforded," believes Mott.
"And as we saw last year with Surrey and Middlesex, if you get on a roll, even if you are in the mid-pack, you can come home with a wet sail and get up to the next division."
But Mott, the elite performance director, concedes it has been a disappointing start for a team which showed much promise in the close season.
They have lost to Leicestershire and Derbyshire fairly comprehensively and after a better batting performance against Hampshire - Ben Wright getting the team's first century of the campaign - they only lost from the penultimate ball of the game.
Glamorgan head to Bristol on Thursday to play Gloucestershire looking to stop the rot.
"[A win] would be massive," added Mott.
"We have just prepared so hard and that's been the disappointing thing that it hasn't translated into results yet.
"Speaking to the players and the coaching staff we feel like we are heading in the right way.
"It would have been nice to pick up a win the other day to prove to ourselves and our supporters we are on the right track
"But there is enough belief in this group that we will turn things around.
"It is a hell of a long season. We have just got to make sure we keep chipping away and doing the processes right because eventually the results have to come our way."
Glamorgan will go to Bristol expected to name an unchanged side with Nick James likely to carry on the opening batsman role which saw him score 30 in the second innings.
"I think they [Gloucestershire] are a serious threat. They have come together pretty well," believed Mott.
"They are on tight budgets like us but their players are performing. If the weather holds I think it will be a very interesting match.
"Trying to be first innings champions. We have got to get our noses in front and stop playing catch-up.
"I've been around the game long enough to know you go through your troughs and that's what makes the success so much more enjoyable.
"When we do get that first win I'm sure we will celebrate it hard and move on to the next game."
Glamorgan: (probable) G Rees, N James, W Bragg, S Walters, B Wright, J Allenby, M Henriques, M Wallace (capt), G Wagg, D Cosker, H Waters.