Saeed Ajmal absence puts Worcestershire 'in limbo'
Last updated on .From the section Cricket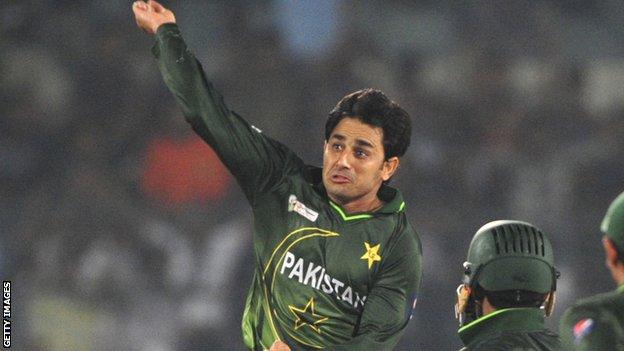 Director of cricket Steve Rhodes says Worcestershire are "in limbo" after it was confirmed that Saeed Ajmal will tour with Pakistan this summer.
Spinner Ajmal will miss the Royals' FL t20 campaign due to touring Sri Lanka with his country between May and July.
"We were over the moon to get him back but now we're left in limbo and we've got to try to sort something out," Rhodes told BBC Hereford & Worcester.
"It's going to be very difficult to pin-point any replacement cricketers."
Rhodes stated that he is looking for somebody to bowl at similar periods of the match, and not necessarily another spin bowler.
"We're looking for a guy to bowl one or two overs in the power plays and two or three at the end of the innings," he said.
"It doesn't have to be a spinner, the reason he could do it is because he's practically the world's best spinner at the moment, that's the type of cricketer we're looking for.
"It will be difficult to fill and we've got nothing concrete."
West Indies fast bowler Kemar Roach has been touted as a potential replacement, but with a number of countries involved in tours, Rhodes highlighted how difficult it will be find a capable and available deputy.
"The problem is that the West Indies are touring England, South Africa go to Zimbabwe for five Twenty20s, India don't seem to be available, Sri Lanka are playing in Pakistan, New Zealand are going to the West Indies afterwards.
"It's really awkward to find the right sort of player.
"Added to that, it's not as if you can bring in a real youngster because we have problems with work permits; you've got to play so many international games."
But Rhodes hopes Australian opening batsman Phil Hughes will be fit and available for the one-day match against Middlesex on 27 May.
"People raised a few eyebrows because he lacked a little bit of form and he lost his place in the Test side," he said.
"But to me that means he'll be very very hungry and will have a point to prove when he does get here."