Sir Ian Botham confident England can hold on to top spot
Last updated on .From the section Cricket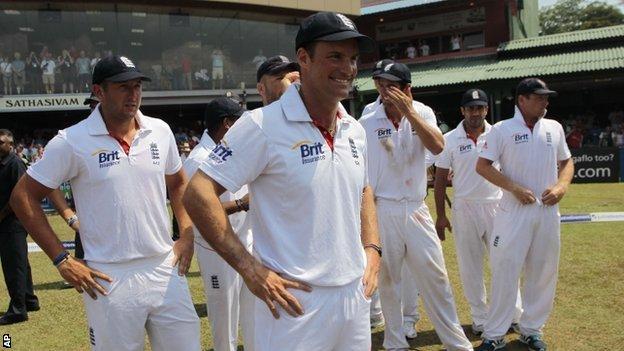 Sir Ian Botham is backing England to stay at the top of the Test rankings for the foreseeable future.
Botham, England's leading Test wicket-taker, says the team will reassert themselves following the 3-0 loss to Pakistan and a 1-1 draw with Sri Lanka.
"This winter is part of the learning curve," said Botham. "You can go in at number one and get a little blase.
"But they are still number one and I think they are going to stay at number one for quite a while now."
England clung on to their number one spot by beating Sri Lanka in Colombo, to claim their only Test victory at the end of a difficult winter against subcontinental sides.
Andrew Strauss's men face the West Indies in a three-Test home series from 17 May, before a potential showdown for the number one spot with South Africa in July and August.
Botham blames an underperforming batting line-up for some poor winter results, but believes the side have now turned a corner.
"The bowlers were magnificent throughout and it has to be said the batsmen just didn't turn up," added Botham.
"Why that is, I haven't got a clue - and I don't think they know.
"England are a good team. I don't know what went wrong in the first part of the winter.
"If you put your guard down, someone will bite you on the bum but I think England will come good again now."
Botham, speaking at the conclusion of the Birmingham-Clent Hills leg of his latest walk across Britain in aid of raising funds and awareness of leukaemia, also defended Strauss from criticism over his batting performances and captaincy.
He said: "You are always going to get over-the-top stuff. You get that with certain elements of the media.
"It's like Kevin Pietersen. Two or three weeks ago some people wanted Kevin Pietersen out. What planet are these people on?
"Strauss is good enough to carry on for another couple of years. He deserves to."