MCC admits that Olympic archery will damage Lord's outfield
Last updated on .From the section Cricket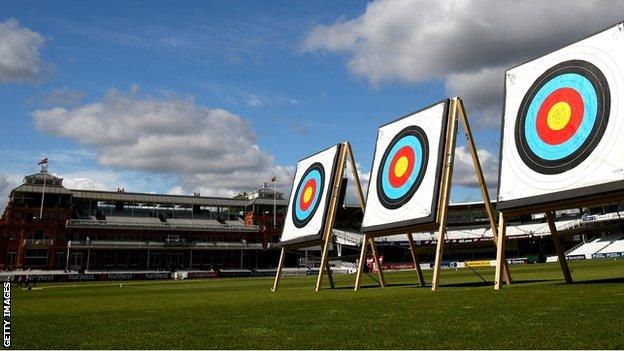 The MCC has admitted that holding the Olympic archery event at Lord's will cause damage to the outfield for England's Test against South Africa.
The archery takes place between 27 July and 3 August and the third and final Test against the Proteas starts on 16 August, less than a fortnight later.
"It won't be looking quite as it used to," said the MCC's John Stephenson.
"The outfield will get a little wear and tear because there are two stands going to be set up," he added.
And Stephenson, head of cricket at Lord's, explained to BBC Sport's Alison Mitchell that there would be 5,000 people accommodated in the stands on the outfield.
"It will mean that for the Test match between England and South Africa, the outfield won't be in pristine condition."
England are ranked the number one Test cricketing side in the world, and the visit of number two outfit South Africa is keenly anticipated.
A global audience will tune into what could be the deciding Test of the series, and Stephenson is aware that a damaged-looking outfield may come as a shock.
"We will have to manage expectations for that, because everyone expects the outfield at Lord's to be like a putting green and absolutely immaculate," he acknowledged.
"It will still be absolutely fine for cricket. There won't be any big holes in it. It will just look as though something's been plonked on the outfield for six weeks, which it will have been.
"But we're quite prepared to deal with that. We'll do our best to patch it up between the end of the Olympics and the Test match."
The MCC has made arrangements with the London Organising Committee of the Olympic Games (Locog) to compensate Lord's for any damage caused.
"We're going to come out of it quite well," said Stephenson. "At the end of the season we are going to relay the outfield turf completely at no cost to the MCC - Locog are paying.
"It will be back to its former glory."