Leicestershire lifted by Sarwan class - Phil Whitticase
Last updated on .From the section Cricket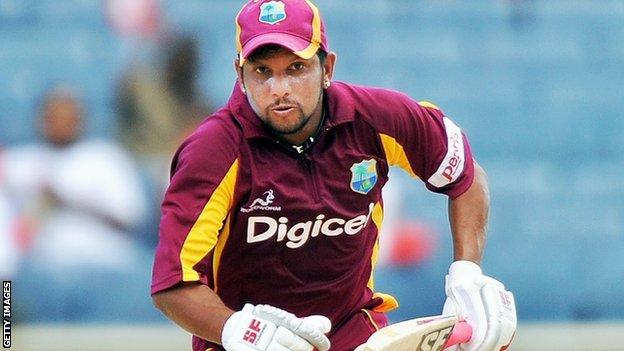 Leicestershire head coach Phil Whitticase believes West Indies batsman Ramnaresh Sarwan's international class will inspire the squad this season.
Leicestershire had a mixed 2011, finishing bottom of Division Two of the County Championship but winning the FL t20.
But Whitticase told BBC Radio Leicester that the signing of Sarwan, 31, will have a big impact, on and off the pitch.
"You can see the instant respect from the other players to someone who has played as much Test cricket and as many one day internationals as he has," Whitticase said.
"We bring these guys over here to be our leads. It may not be instant but there is enough quality to show that he will perform for Leicestershire.
"We are looking forward to having him with us all year. It's great to have that type of character. He will offer a lot to our changing room."
But Whitticase is also cautious of putting too much pressure on close-season signing Sarwan, and says it is vital the younger players pull their weight.
"He's a great lad. He's very calm but is high quality. For someone that hasn't played a lot over the last few months he looked high quality in the nets," Whitticase added.
"But it is not the case of the rest of the changing room looking around thinking 'he can do all the work for us'.
"We have a lot of talent in the changing room and that talent needs to come forward."
Skipper Matthew Hoggard has said he expects a young Leicestershire side, who begin the new domestic season with a home Championship fixture against Glamorgan on Thursday, 5 April, will learn from last season.
They will be have to do so without veteran wicketkeeper Paul Nixon, who has retired, and Trent Bridge-bound James Taylor and Harry Gurney.
But, like his skipper, experienced left-arm spinner Claude Henderson believes the club have plenty of reasons to be optimistic for the new campaign.
"I am very excited for a lot of things," the 39-year-old South African said.
"We have a lot of young talent in the club batting wise, and it is time for them to show what they are about.
"I am very glad the club signed Sarwan - especially for the whole season. It is good to have a senior player like that around for six months with Ben Smith as well helping the youngsters.
"And we have a very good bowling side. We showed that last year - especially in the one-day game. This year will be a challenge in four-day cricket but we have the players and we need to prove it."
And on a personal level, Henderson said he has benefited from a quiet close season.
"Body-wise, I have always been strong," he said. "I have been lucky in that and being a spin bowler you can play longer. Physically I am feeling good.
"But it was nice to rest for six months. I have played a lot of cricket in the last five years so it was a good decision to chill out."