Sri Lanka v England: Jonathan Agnew column

By Jonathan Agnew
BBC cricket correspondent in Galle
Last updated on .From the section Cricket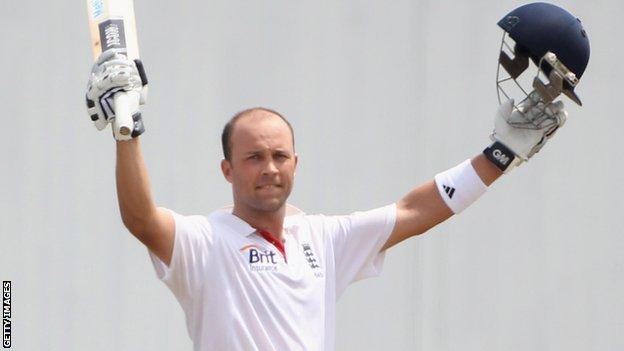 First Test, Galle, day four (stumps)
Sri Lanka 318 & 214 beat England 193 & 264 by 75 runs
Match scorecard
On a day when England's batting line-up once again failed to deliver, Jonathan Trott at least showed the absolute commitment, discipline, application and willingness that is required to succeed on these pitches.
It shouldn't be difficult for top, international batsmen to follow Trott's lead - that is why this is such a serious issue.
Trott is by nature a disciplined, composed batsman, but it is a cop-out to say that he played the way that he did because it is his natural game, while other players are more inclined to attack.
Just as you would expect Trott to play shots when England need to chase runs, the other England batsmen should also be expected to show discipline when it is required. Playing in the appropriate way, according to the situation, should be expected from any batsman from village level upwards.
If there is another failure in Colombo - and I wouldn't put my money on them avoiding that (even though Sri Lanka are not very strong) - then it is coming down to the wire for some of these batsmen when it comes to batting in the subcontinent.
In the next series, they will host West Indies, who you wouldn't expect to provide much of a challenge, and then South Africa who probably will. But, after that, they go to India.
Should the batsmen fail again in the next Test, the selectors will have to look very, very carefully at the situation.
They have had four matches this year and failed in every one. There has been no improvement from the matches that they lost against Pakistan.
Look at the reckless way that Andrew Strauss, Kevin Pietersen and Ian Bell got out. Bell has got so many lovely shots so why play a shot like that?
The batsmen should know that you do not just have to play attacking shots to be positive. You can be positive in defence.
The way in which you play a solid defensive shot can have the same powerful message as hitting a four. It can have the same impact on a bowler. But batsmen think that they have to smash balls for six to do that.
At least England knuckled down a bit more in their second innings, compared to the first, largely because of Trott. When Trott and Matt Prior were batting together, they were picking up singles and England supporters were thinking 'we might get there'.
They were nudging their way to the target. It was good, careful, batting when it wasn't easy.
That was one of a number of moments in which England had been very much on top. There were enough times in the game when they were in match-winning positions. Mahela Jayawardene seemed to know that the mistakes would come, though.
Rangana Herath took 12 wickets in the match and, from conversations I have had with the likes of Kumar Sangakkara and Rod Tucker, it is clear that there is more to Herath than what strikes you from watching on the television, in the stands or in the commentary box.
Umpire Rod Tucker always feel he is in the game when Herath is bowling. England need to treat him with respect.
Once again England's bowlers are blameless in their demise. They have shown the discipline and character that the batsmen have lacked.
Listen to how the final day of the opening Test unfolded on the TMS podcast.