Sri Lanka v England: Jonathan Agnew column

By Jonathan Agnew
BBC cricket correspondent in Galle
Last updated on .From the section Cricket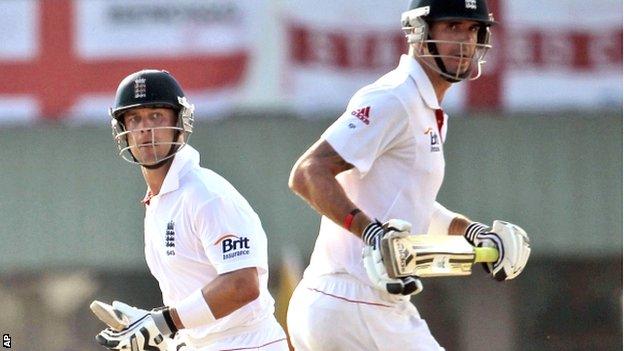 MATCH POSITION: England 111-2 requiring a further 229 runs for victory
This position is not entirely beyond England, there is a genuine possibility they could win.
It's certainly a very tall order and realistically the most likely outcome is a Sri Lanka win but all it takes is for two batsmen to get themselves in and make a significant contribution - cricket creates opportunitues for amazing records to be broken.
This might be the pair to help England get over the line, they are certainly a good combination.
Jonathan Trott exemplifies sheer determination and of course Kevin Pietersen is quite capable of a brilliant match-winning innings.
Pietersen has already had a bit of luck when he was dropped on 12 so it may be that he uses that lifeline and goes on to produce something special.
There is not much to come, it has to be said, Ian Bell played nicely and got runs in the first innings but then there is Matt Prior at six and Samit Patel making his debut at seven.
Then again, the Sri Lankan bowling is not in the same league as Pakistan's and if England can get to lunch without losing a wicket it will be very interesting to see the pressure applied back on the home team.
There should not be anything untoward from the pitch, which is not a minefield. It is turning enough to keep you on your toes, however, and as a batsman you may feel there is a ball out there with your name on it.
It was an important moment when the no-ball was given against Stuart Broad with the Sri Lankans on 167-9 but it was the right decision, he had over-stepped by some distance.
Broad has not bowled very much so was liable to do that.
It's easy then for things to become ragged and tempers can get a bit frayed.
More of a talking point I think is the shot Andrew Strauss played in getting out, and I can't imagine what he would have been thinking to himself after such a reckless, horrible shot.
It was a ghastly misjudgement and all the more baffling because he had done the hard work, there was no need to play like that, heaven knows why the red mist descended.
If England do fail in these two Tests his position has to come under scrutiny and there is so much riding on this series because if they were to lose both matches they would go to India next winter having lost their last five Tests on the sub-continent.
Clearly they could not take the same six batsmen who had not performed here and if the captain was one of those then it becomes very difficult, so they will be urgently hoping Strauss gets some runs and they go on from here.
Sri Lanka's batting has been every bit as eccentric and there is every chance that England can win this series, so much depends on what they can do tomorrow.