Ricky Ponting concentrates on Tests after one-day omission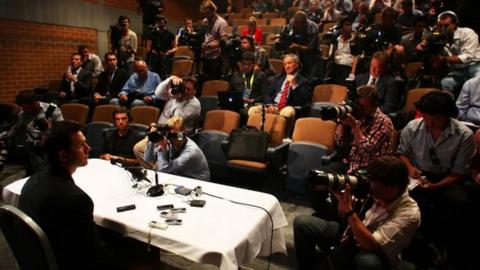 Ricky Ponting admits he does not expect to play international one-day cricket again after being dropped from the Australian limited overs set-up.
However, the 37-year-old, who stopped short of announcing his retirement in the shorter format, wants to continue to play Test cricket.
"I don't expect to play one-day cricket for Australia anymore," said Ponting.
"I've only got Test cricket left now and I still have what it takes to be a dominant player."
Ponting, who quit as Australia captain after the World Cup quarter-final loss to India in March, was dropped on Monday after scoring just 18 runs in five innings in the tri-series against India and Sri Lanka.
The Tasmanian's omission from the squad comes after he stepped in to lead the side to one victory and one defeat in their previous two games in the absence of injured skipper Michael Clarke.
Ponting has played in 375 one-day internationals and won three World Cups, captaining Australia to victory in 2003 and 2007. He scored 13,704 runs at an average of 42, second only to India's Sachin Tendulkar.
But, speaking at a press conference in Sydney, he added: "I have been dropped, which is disappointing but I accept that. My performances over the last five games haven't warranted me being there.
"John [Inverarity, national selector] has been pretty clear on the reasons why and the direction they are heading with the one-day team and I am not part of their plans.
"This has all happened a bit quickly for me and caught me a bit unexpected.
"It's a bit hard to say I've retired given I've been dropped but I don't expect to play one-day international cricket any more and I'm sure the selectors don't expect to pick me either.
"I think I've proved this summer that I can still play great cricket for Australia and deserve to be out there."
Ponting, whose immediate focus is on earning a place in the Test team for the tour of the West Indies in April, has always maintained one of his remaining goals is to play in the 2013 Ashes series in England.
He faced calls to be axed from the Test side last year after a run of low scores, but responded with 643 runs at an average of 80.38 in recent series against New Zealand and India to silence his critics.
"It's not about defying anybody," he said. "It's about being the best that I can be and winning games of cricket for Australia.
"I think criticism is always going to come your way as an international player, everyone understands that and accepts that.
"I've never been too big for criticism and I guess over the last few years I've copped a little bit but I've always copped it on the chin and tried to make myself a lot better as a result."
And Australian great Mark Waugh believes his former team-mate still has a lot to offer to the five-day team.
"He's just come off a great Test series against India so his form is pretty good," Waugh told Fox Sports. "He's got to keep himself ready and keep himself fit but I don't think that's a problem - he looks the fittest he's been in his career.
"He's always been a great competitor and very hungry. He's always been very talented from a young age and been a great team man and talented with the bat and in the field, as good as anybody."
Despite deciding Ponting did not fit into Australia's one-day plans for the future, national selector Inverarity paid tribute to the player.
"Ricky's record speaks for itself," said Inverarity. "He is one of the truly great performers in the history of Australian ODI cricket, with his reputation enhanced further by him captaining Australia to two World Cup victories.
"Ricky's contribution goes far beyond his batting statistics and his brilliant fielding. The example he sets in every respect and his extraordinarily positive influence in the dressing room is acknowledged by all.
"He is held in the highest possible regard by his team-mates and there is no higher accolade than this."