Spot fixing: Danish Kaneria denies corruption claims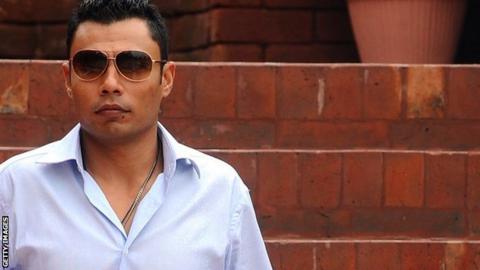 Former Pakistan spinner Danish Kaneria has maintained his innocence after being named in the corruption trial of ex-Essex paceman Mervyn Westfield.
Westfield was jailed for four months on Friday for his part in spot-fixing though his defence team claimed Kaneria had been a go-between in the deception.
"Westfield is a convicted fraudster and admitted liar," said the 31-year-old.
"In trying to reduce his own guilt he has tarnished my name. All allegations against me are false."
Westfield pleaded guilty at the Old Bailey last month to one count of accepting or obtaining a corrupt payment of £6,000 to bowl in a way that would allow the scoring of runs in the opening over of a Pro40 match against Durham in September 2009.
Kaneria was arrested in connection with the case but later released without charge.
He added: "Essex police cleared me and I have clearance certificates from both ECB [England and Wales Cricket Board] and ICC [International Cricket Council], so I am not feeling any pressure."
Following the Westfield court case on Friday, the Pakistan Cricket Board (PCB) said it would co-operate fully with any ECB investigation into former Test leg-spinner Kaneria.
PCB legal advisor Tafazzul Rizvi said: "The PCB will co-operate totally with the ECB if it holds an inquiry into this matter.
"It is a serious matter for us and we will now be examining the judgement and evidence placed before the court during the trial."