Pakistan v England: Mohsin Khan revels in 'dream come true'
Last updated on .From the section Cricket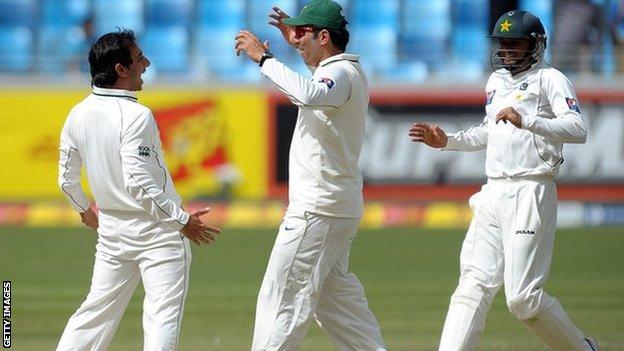 Pakistan interim coach Mohsin Khan described his side's as "like a dream come true".
Captain Misbah-ul-Haq is now unbeaten in seven Test series since taking over the captaincy in 2010.
"It's not a very experienced team, not a world-beater, but it's a very talented team and I have lot of faith in the captain," Mohsin said.
"But we have to perform the same way all over the world - when we play in Australia, South Africa or England."
Pakistan, who were bowled out for 99 in the first innings, recovered to set England 324 to win in the fourth innings. The tourists managed 252.
"In Test cricket you have to be disciplined and then your performances will follow," said skipper Misbah.
"We need to work on our batting and fast bowling but I think this team can go far.
"It was a wonderful performance - I can't put it into words. It really, really means a lot to us.
"After getting bowled out for 99, nobody thought we could come back, but that is what this team has been doing for a year-and-a-half now."
Mohsin also had words of praise for his captain, adding: "Misbah is a very sensible person, cool-minded.
"We sit down together, discuss things, have no ego problems. I feel very comfortable with Misbah."