Pakistan v England: England under-prepared, says Strauss
Last updated on .From the section Cricket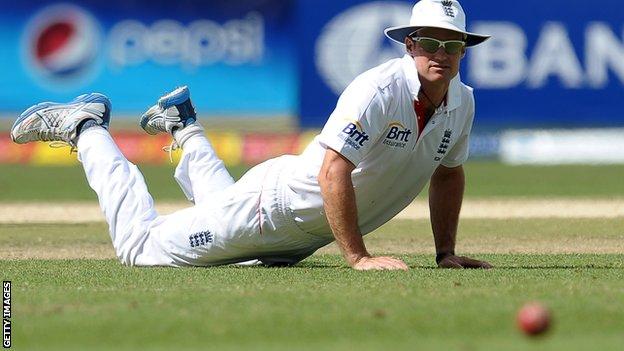 Captain Andrew Strauss admitted England had been under-prepared following his side's .
Set 324 to win the final Test, the tourists were bowled out for 252 in the final session of the fourth day.
"If it has taught us anything it's that you can't afford to be slightly off in your preparation prior to the first Test," Strauss told BBC Sport.
"The first Test [which England lost by 10 wickets] has such a big impact on how the rest of the series pans out."
Reflecting on what England could have done better, Strauss added: "We've got regrets about how we played the spinners and maybe there are some important things we've learnt.
"Pakistan's spinners bowl slightly differently to your usual spinners, they put you under a lot of pressure and it would be a great disservice to them to say we lost the series [rather than Pakistan winning it].
"But clearly you can't get bowled out for 150 every time and expect to win too many Test matches.
"We've got to be better and find a way to score more freely against those types of spinners and that's always the challenge in this part of the world, how to play high quality spinners."
"There will be a little bit of soul-searching to do but I'm a great believer in the addage you don't become a bad side overnight and there's still a huge amount of quality in our side.
"Maybe it's a little bit of an eye-opener, especially with two other sub-continent tours this year [Sri Lanka and India]. We've got to be a lot better than we were on this tour.
"The guys that are here for the one-dayers [England play four ODIs and three Twenty20s] will obviously be experiencing these conditions for two or three weeks longer.
"The guys that are going home will have to think about how best to prepare for Sri Lanka."
However, Strauss did praise his bowling attack, which put England in winning positions in two of the three Tests.
He said: "You can't fault our bowlers at all. James Anderson and Stuart Broad, in very unhelpful conditions, were outstanding.
"They built up pressure when they weren't taking wickets and took a fair amount of wickets as well.
"It was fantastic to see Monty [Panesar] come into the side and creating a lot of problems for their batsmen, and Swanny [Graeme Swann] did a good job as well."