Pakistan v England: Jonathan Agnew column

By Jonathan Agnew
BBC cricket correspondent in Dubai
Last updated on .From the section Cricket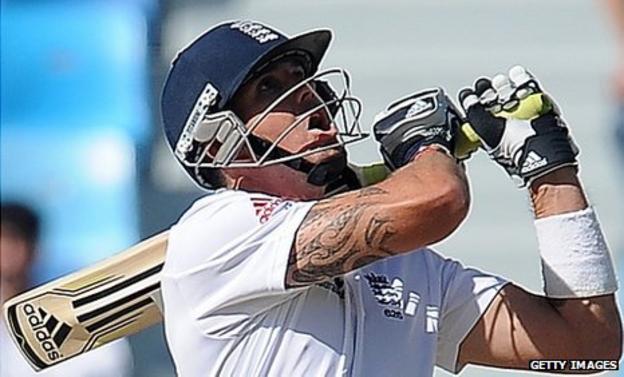 There are three defining principles to batting in Test cricket: you need discipline, patience and technique. Unfortunately, England's top order did not apply any of them in the heavy first Test defeat against Pakistan.
They simply failed to learn from their mistakes in the first innings and batted very much the same way second time round.
And when your top six batsmen score 143 runs between them in a match, the odds are you are going to lose unless the conditions are really difficult.
Andrew Strauss's dismissal for a leg glance to the wicketkeeper may have been controversial, given that replays did not show clear contact between bat and ball, but whether he was out or not, it just does not explain the hapless shot selection that followed.
Kevin Pietersen's stroke was ghastly and was symptomatic of England's approach throughout. It was just a short ball, deliberately bowled, with a man out at deep square leg and he hit it straight down his throat.
Alastair Cook's shot was not any better, Ian Bell hasn't got a clue how to play Saeed Ajmal, and although Jonathan Trott played well for 49, he then played a very poor stroke to get out.
The only three batsmen who played well in this match - Mohammad Hafeez, Misbah-ul-Haq and Matt Prior - did it the same way, by knuckling down, playing straight, playing patiently and picking off the runs as and when they could.
You don't play champagne cricket on these pitches, they require a bit of work to get in, but this has not been a difficult pitch.
There has not been a ball that kicked and turned or shot along the ground or did strange subcontinental things.
It has just been a decent, flat cricket pitch and it is almost inexplicable how England managed to play as badly as they did.
I say almost because I do have some sympathy over their inadequate preparation for the series.
There are simply no other teams they could have played out here and you only really get into form by playing competitive matches.
The question now is really whether the best team in the world can prove that it is that by learning quickly from their mistakes.
But it will be difficult for the batsmen to turn this around because they can have as many nets as they want but they won't be facing a mystery spinner like Saeed Ajmal.
Looking ahead to the second Test, there will be calls for changes as there always are after defeats like this but it is difficult to see an obvious solution.
It seems odd to call for them to play an extra bowler after such a poor batting display but if the Abu Dhabi pitch is as flat as people say, there is no reason at all to play six batsman.
You could drop Eoin Morgan - whose dinky one-day shots simply don't translate to the Test arena - play Matt Prior at six, and take a gamble with Stuart Broad at seven.
That would at least enable them to field a second spinner and bring in the possibility of getting more lbw decisions through the Decision Review System.
If they don't win in Abu Dhabi, they will have to come back here again and win, so their hands may be forced, but whatever the make-up of the side, it's going to be a real challenge for England to salvage something from this series.
More than anything else they have got rediscover the application, discipline and patience that is required to bat for long periods in Test cricket.