Australia v India: MS Dhoni banned for final Test match
Last updated on .From the section Cricket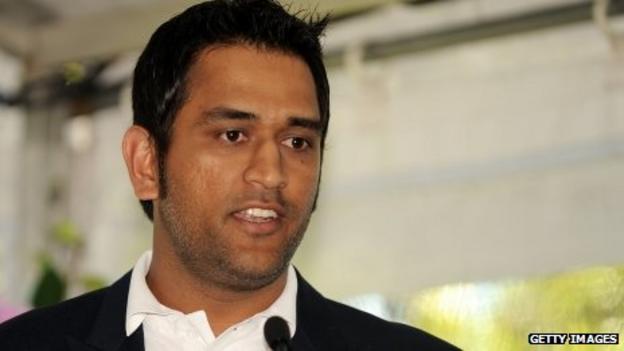 Mahendra Dhoni has become the first captain to be suspended for bowling a slow over-rate during India's heavy defeat by Australia in Perth.
A new International Cricket Council ruling means Dhoni misses next week's fourth Test in Adelaide because this is his second offence within 12 months.
Umpires Aleem Dar and Kumar Dharmasena reported Dhoni after India were ruled to be two overs short of their target.
Dhoni was fined 40% of his match fee and his team-mates received 20% fines.
Australia, who lead the four-match Test series 3-0, wrapped up an emphatic victory on the third day but Dhoni's punishment still stands.
An ICC statement read: "The offence is contrary to Article 2.5.1 of the Code which relates to over-rate offences. Dhoni pleaded guilty to the charge and the subsequent penalties were accepted both by Dhoni and India."
The ICC code of conduct for slow over-rates came into force in June 2011.
It states that a captain faces suspension for one match if his side is guity of two over-rate offences in the same format of the game in a 12-month period.
India and Dhoni were guilty of being three overs short against West Indies in a Test match in Barbados last June.
Virender Sehwag is likely to take over as captain for the final Test, with Wriddhiman Saha set to come in as wicketkeeper.
Former India captain Sourav Ganguly was suspended for two Tests in 2004, lifted on appeal, because of his side's slow over-rate in a one-day international against Pakistan.