England wicketkeeper Davies an inspiration, says UAE gay campaigner
Last updated on .From the section Cricket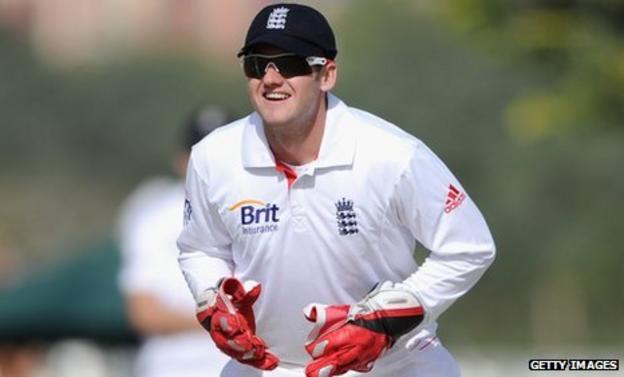 A campaigner for gay rights in the United Arab Emirates says he is inspired by the presence of Steven Davies in England's Test squad.
Abdulla Alzareei runs a Facebook page which promotes equality for homosexuals in the UAE.
Alzareei said: "Having an openly gay member of the England cricket team play in the UAE is awesome".
Mr Alzareei operates his Facebook site from Canada where he says he gained asylum two years ago.
He claims he found it impossible to continue living in the UAE, adding "my parents found out I'm gay and decided I needed to go for "reparative therapy", a hormone treatment."
Surrey player Davies has previously played in the UAE since coming out publicly, for the MCC in Abu Dhabi last year. He is the first active professional cricketer to confirm that he is gay.
The former Worcestershire keeper, who was part of the victorious 2010-11 Ashes squad, but who missed out on the 2011 World Cup, came out to his friends and family six years ago.
Alzareei does not believe Davies's sexuality will become an issue, despite the lack of recognition for gay people in the UAE, and believes his status will ensure he is treated respectfully.
"If anything they won't report anything about him being gay at all. They will turn a blind eye to it."
The England and Wales Cricket Board have said they have no qualms about Davies's presence on the tour, and England's players have praised the facilities and their welcome in Dubai so far.
Davies is one of only a few professional sportsmen to come out. Footballer Justin Fashanu, who died in 1998, and dual-code rugby international Gareth Thomas also both did so during their careers.