England's Graeme Swann says one-day cricket should be scrapped
By Sam Sheringham
BBC Sport
Last updated on .From the section Cricket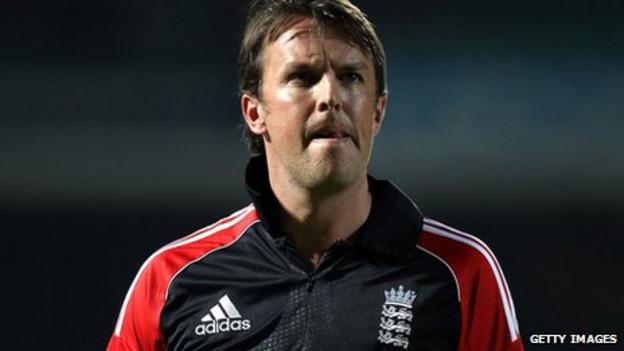 England spinner Graeme Swann has told BBC Sport he would like to see one-day international cricket scrapped.
"I think one-day cricket will have to give at some point, hopefully for everyone," he said. "I don't think that game should carry on for much longer.
"For me it's not as enjoyable to play in. I think Test cricket and Twenty20 are the way forward for cricket."
Swann, 32, said the recent postponement of the World Test Championship was "disturbing" and "short-sighted".
A key member of England's side in all three formats of the game, Swann was top of the one-day bowling rankings as recently as October before slipping to third.
He has taken 90 wickets in 64 one-day internationals at an impressive average of 25.43.
But he cut a frustrated figure for much of the recent 5-0 hammering in India in which he took just two wickets in four matches and was surprisingly left out for the game in Mumbai.
Swann said he has no imminent plans to quit one-day cricket but believes abandoning the format would help reduce overcrowding in the international calendar.
"We do play too much cricket and if something had to give my choice would be 50-over cricket, or make it 40-over cricket or something," added Swann, who captained England in their last three Twenty20 internationals.
"But that's a purely personal choice. I don't think many people agree with me.
"I think I will finish [playing] before any changes take place so I will carry on playing whatever they put in front of me."
Swann's calls are unlikely to be heeded because one-day cricket remains such a lucrative form of the game, especially in the subcontinent.
Last week, the International Cricket Council called off the inaugural World Test Championship - due to be staged in England in 2013 - in favour of the 50-over Champions Trophy after pressure from its broadcast partner ESPN Star Sports.
"This is frustrating because being English we rate Test cricket above and beyond anything else, and certainly the Champions Trophy," said Swann.
"[Abandoning the Test Championship] is a bit disturbing and short-sighted in my view but I'm not the powers that be."