BBC Radio 5 live's Pat Murphy pays tribute to Basil D'Oliveira

By Pat Murphy
BBC Radio 5 live sports reporter
Last updated on .From the section Cricket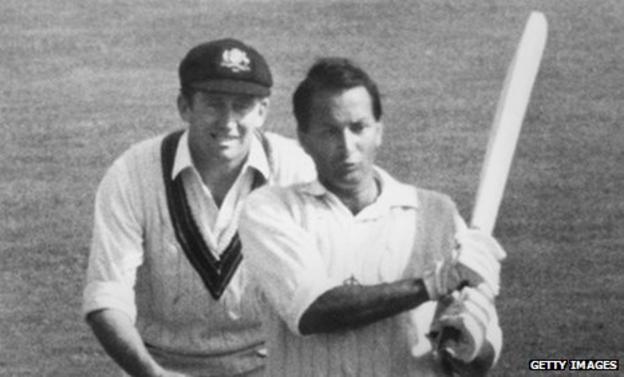 One September day in the late 1970s, Basil D'Oliveira was sunning himself on a Spanish beach with his family. A Spanish TV crew approached him and, in halting English, asked him for an interview. A bewildered D'Oliveira said: "But you don't know who I am," only to be told: "Oh yes, we all know about you."
Basil's fame and popularity always amazed him. An essentially shy, private man, he remained deeply grateful to the British public for the support he received over the events of 1968 and continued to get until he finally retired in 1980.
I cannot think of another England cricketer who was applauded so warmly for such a prolonged period of time when walking out to bat - and, in his last season, even when he had failed, as he returned to the pavilion.
The British sporting public recognised a hero when they saw one. And Basil was exactly that.
Those from a younger sporting generation will wonder what all the fuss is about today, now that Basil's sad days suffering from Parkinson's disease are finally done.
Five Test hundreds and an average of 40 in 44 Tests is impressive, but no more than that. He did score runs when needed - he was no 'flat track bully' cashing in when there was little pressure. But you can say that about many other international cricketers.
Yet Basil was unwittingly one of the most influential cricketers of the 20th century - because of the colour of his skin.
He was 'Cape coloured' and he had to escape the dreadful limitations imposed by apartheid in the 60s to prove himself as a cricketer. The great cricket commentator John Arlott, a dedicated opponent of apartheid, managed to get Basil a Lancashire League contract, then he graduated to Worcestershire and finally made it into the England team when he was approaching middle age.
In August 1968, Basil made 158 against Australia in the final Test of the summer. When England won dramatically on the final day, with Basil taking a crucial wicket, we all waited eagerly for the news that he would be in the England party to tour South Africa that winter.
Shamefully, a few days later, the selectors bottled it and Basil wasn't picked. It was a major news story and became even more significant a week later when Tom Cartwright dropped out through injury and Basil was eventually selected.
The South African government, appalled at the opprobrium in Britain, cancelled the tour, saying the squad had been picked by the Anti-Apartheid Movement, not the MCC. South Africa would not play Test cricket against England again until 1994, with the D'Oliveira affair the catalyst for a sporting isolation that lasted more than 20 years.
During that time, many great South African sportsmen came to admit publicly that apartheid was obnoxious, that massive social and political changes were long overdue in their country - but everyone agreed that the dignity and integrity of Basil D'Oliveira were highly influential. He became a leading light for the instruments of change, without saying a word.
Basil relied on his professional performances and personal warmth to cement his place in the hearts of the British public. In private - especially after imbibing a beer or two - he was less discreet, but he handled himself superbly in public. He was a hero to so many around the world, even to those who had no defined views about apartheid.
In 1980, when I collaborated with him in his farewell to cricket, we deliberately called his autobiography 'Time to Declare'. In it, he stated for the first time that he was glad that the proposed South African cricket tour to England in 1970 was called off for fear of public disturbances.
And on a personal level, it was a huge thrill that Arlott contributed the foreword to the book, after being such a help to Basil down the years and a thorn in the side of the establishment through his anti-apartheid stance.
I recall standing with Basil at the Newlands ground in Cape Town during the Test against England in January 2000. He pointed to the trees that he used to stand under when watching the cricket as a boy coming from Signal Hill, dreaming his dreams.
He ruefully mentioned how comfortable the seats for the white spectators were and that he always supported South Africa's opponents in those days, just like Nelson Mandela.
He was wryly amused that he'd just been voted one of South Africa's 10 greatest cricketers, even though he had never played first-class cricket in his home country.
"You should have seen me when I played at Signal Hill in my 20s," he smiled. "I was some player then. I was over the hill when I came to England."
Well he truly must have been some cricketer then. His crucial hundred in that Oval Test demonstrated his flair for the big occasion. He just had to get a big score after a poor Test series to get on that plane to South Africa.
That morning he rang his wife at home in Worcester and said: "Pull up a chair, turn on the TV and enjoy it, Naomi, because I'm going to be there all day."
He was, and he made his highest Test score. Yet the cup of triumph was dashed from his lips twice in a few days - first by the pusillanimity of the England selectors, then the intransigence of the South African government.
Yet you can't measure Basil's status in terms of England tours, championship honours with Worcestershire, the joy of seeing his son Damian succeed him in the Worcestershire side, his OBE award, and his coaching career at New Road that had much to do with the development of Graeme Hick.
He may have been in the twilight these past years, failing to recognise many who came to his nursing home to pay their respects, but he knew how loved he was around the world, especially in the city of Worcester, where he had been revered since arriving there with Naomi in 1965.
His significance will never be lost on those who maintain that sport and politics should never mix. But his popularity and personal example marked him out as a rare human being.
The dignity of the ordinary man could not be circumscribed by the evils of apartheid, as millions of remarkable people demonstrated. And Basil D'Oliveira was one of those.