Ban corrupt countries from cricket - Ex-ICC anti-corruption chief
Last updated on .From the section Cricket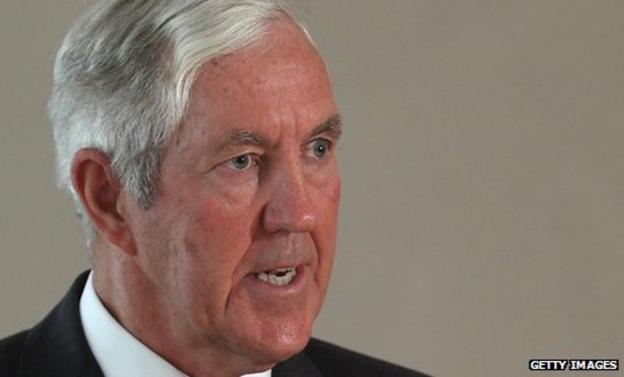 Former International Cricket Council anti-corruption chief Lord Condon believes countries who fail to control their players should be banned from international cricket.
Condon was speaking in the wake of the jailing of three Pakistan players found guilty of of conspiracy to cheat and conspiracy to accept corrupt payments.
He told BBC Sport: "The ICC has to give out the harshest sentences it can.
"The nuclear option is banning boards from international cricket."
Lord Condon, the former Commissioner of the Metropolitan Police, was the first head of the ICC's anti-corruption and security unit when it was set up in 2000 following the match-fixing scandal surrounding the then South Africa captain Hansie Cronje.
He added: "The ICC must get tougher. This is a big wake-up call. Cricket is at a credibility crossroads.
"The ICC and national boards have to be tough and, if they are not, they have to face the consequences."
Lord Condon was succeeded by Sir Ronnie Flanagan in June 2010, two months before Pakistan trio Salman Butt, Mohammad Asif and Mohammad Amir conspired to bowl deliberate no-balls in a Test match against England at Lord's.
The trio were given prison terms on Tuesday - ex-Pakistan captain Butt, 27, was jailed for 30 months, while Asif, 28, received a one-year sentence and 19-year-old Amir, who had pleaded guilty, was given six months.
"They deserved the sentences they got," Lord Condon continued.
"I have mixed reactions - sadness but I'm not surprised. They betrayed their country and millions of people around the world who love cricket."
The 64-year-old went on to praise the News of the World newspaper for their involvement in catching Butt, Asif and Amir, who were also banned from cricket for five years by the ICC in February.
He said: "I've congratulated the News of The World because this was a sting that was done very well and I think they have done cricket a great service.
"If the ICC had done this it probably would not have got to court because rules around entrapment are complex.
"The News of The World had the freedom and courage to take this on and, although this was a huge embarrassment, it was necessary."