Imran Khan demands radical overhaul of Pakistan cricket
Last updated on .From the section Cricket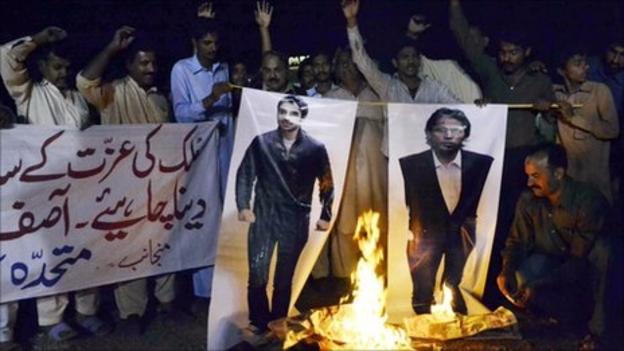 Former Pakistan captain Imran Khan has demanded a radical overhaul of the country's cricket infrastructure in an effort to stamp out corruption.
Salman Butt, Mohammad Asif and Mohammad Amir have been given prison terms for conspiring to bowl deliberate no-balls in a 2010 Test match against England.
"It is a shameful day for Pakistan cricket," said Imran.
"Our system needs to be radically changed. Only then will we be able to rid ourselves of corruption."
Ex-Pakistan captain Butt, 27, was jailed for 30 months with Asif, 28, receiving a one-year sentence and Amir, 19, six months after being found guilty of conspiracy to cheat and conspiracy to accept corrupt payments.
"I feel very sad not only for the players but for Pakistan and its cricket," added Imran, who led Pakistan to victory in the 1992 World Cup and based his later political campaigns on fighting corruption in the country.
"But the fact is that when these players see corrupt people flourishing in our society they think they can get away with anything.
"I feel for the families, they must be going through hell right now.
"I feel very bad for Amir in particular because he still very young. I think he saw others doing it and thought he could get away with it as well."
Pakistan Cricket Board (PCB) spokesman Nadeem Sarwar described it as "a sad day for Pakistan cricket".
"Instead of having pride in playing for their country, these players chose to disappoint their supporters, damage the image of their country and bring the noble game of cricket into disrepute," Nadeem continued.
"There is little sympathy in Pakistan for the sorry pass they have come to."
The PCB also announced stronger controls over the registration of cricket agents and better education and supervision of young players, who they see as vulnerable to "bad elements always on the lookout to trap players".
Former Pakistan coach Waqar Younis, who was in charge during the infamous Lord's Test when the offences occurred, said cricket in Pakistan had to recover from the scandal.
"I hope the whole episode will be taken as a positive for the younger cricketers and the cricketing world. This was there and it needed to be cleaned up," said the former fast bowler, who resigned as Pakistan coach this year citing health reasons.
"It's definitely heartbreaking because I was part of the whole team when this episode took place. It's sad - it's an ugly side of cricket.
"I hope in the future cricketers will think not even twice but 10 times before doing this sort of thing. Unfortunately it ended like this and they have to suffer. I'm so sorry for the families.
"But we are a nation that has recovered before and and we will recover again. It was a great loss at the time - Mohammad Amir at the time was up-and-coming, very energetic with a big future.
"I have no doubt that the talent is there and things will improve."