Hampshire coach Iain Brunnschweiler leaves Rose Bowl
Last updated on .From the section Cricket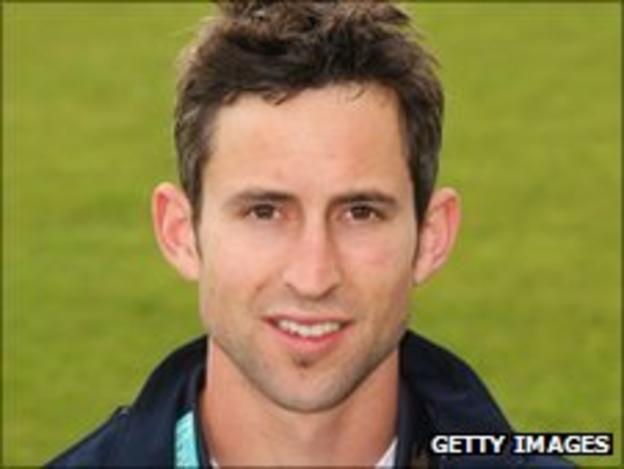 Hampshire are looking for a new assistant and fitness coach after Iain Brunnschweiler left to take up a development role with England.
The former Hampshire wicketkeeper, who played 10 times for the County, also coached at the Rose Bowl for six years.
Brunnschweiler has been appointed head coach for England Under-16s and 17s and is now based in Loughborough.
"It is a really exciting programme for me to be involved in," Brunnschweiler told BBC Radio Solent.
Brunnschweiler was released by Hampshire as a player in 2003 and returned in 2004 as a part-time academy coach.
The 32-year-old then went full-time as an assistant coach and fitness coach for the main squad in 2006.
In 2007 he also played in goal at Wembley in the final of the FA Vase for AFC Totton.
"I've joined the ranks of England's development programme," said Brunnschweiler.
"That means I'll be working with some of the best and most talented young players in this country and hopefully help them to improve."
He added: "It's a very big jump. It's a little bit daunting. I've been involved with Hampshire in some capacity for 11 years now so it is going to be a challenge but is something I've been working towards.
"I'm looking to get involved and take myself out of my comfort zone."
Brunnschweiler admitted it had been a hard decision to leave Hampshire and has not ruled out returning in the future.
"I've been fortunate to work in a fantastic county environment at Hampshire and it was the most difficult decision I've ever had to make. I got offered the job and then had a lot of soul searching," he said.
"I am Hampshire born and bred, started at under-13 level and worked my way up from there. It was a very hard decision and hopefully I haven't upset the apple cart.
"Who knows, one day I might be back at some point in the future."