Graeme Swann targets further England limited-overs improvement
Last updated on .From the section Cricket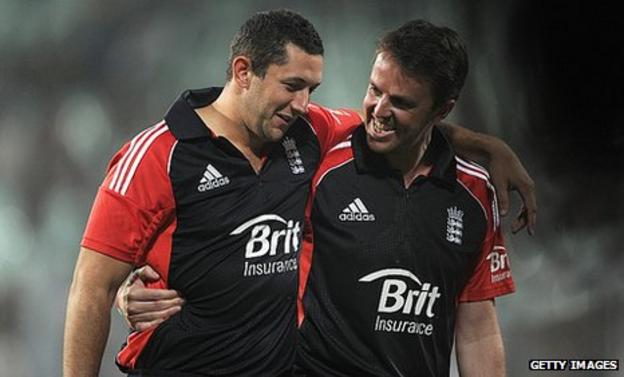 Stand-in Twenty20 captain Graeme Swann said England still have plenty to work on despite finishing a dismal tour with a six-wicket victory over India.
"It's been a very tough month, we have played some abjectly horrible cricket until today," said Swann.
"Tonight has been important to prove to ourselves that we can win over here but one swallow doesn't make a summer."
Swann paid tribute to Steve Finn, who took 3-22 as India were restricted to 120-9, and Kevin Pietersen, who struck 53 off 39 balls in the run chase having been a major doubt to play.
"I thought the seam bowlers were outstanding then KP with the bat was phenomenal," said Swann.
"Steve Finn has been the shining star for us all month. I needed a wicket and turned to him and he delivered.
"He was reverse swinging the ball at pace. There is not much more you can ask for as a captain."
Pietersen defied a broken thumb to deliver a man-of-the-match performance, which included a 'Dilscoop' for four followed by a switch-hit six.
"It was a tricky wicket," Pietersen said. "Fortunately I got dropped a couple of times and rode my luck this evening.
"It's a good place to come and play as a batter and all of us have underperformed. This is only the second game I've won against India so I'm particularly pleased this evening."
Pietersen said England's youngsters were determined to improve as limited-overs cricketers after a testing examination in India.
"Every single one of those guys wakes up every morning looking to improve," he said.
"We've got a management structure that drives us and pushes us. We've struggled in the one-dayers but I think we've done well this evening."
India captain Mahendra Dhoni admitted his side had not done enough with the bat after winning the toss at Eden Gardens.
"I think we were about 15 runs short," he said. "It was very slow and they used the slower ball really well. It was very difficult.
"What's important is we have the next few days off then report to Delhi for the first Test match [against West Indies].
"I think it will be interesting and we will take it series by series."