Former England captain Michael Vaughan urges one-day shake-up
Last updated on .From the section Cricket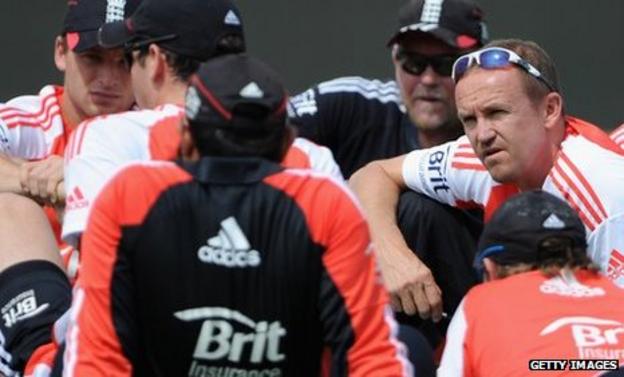 Former captain Michael Vaughan believes England must change their approach to one-day cricket after their 5-0 whitewash against hosts India.
England have only won five of their last 20 overseas one-day matches.
And Vaughan, 36, said: "They've got to be dead honest. We lost 6-1 in Australia, 5-0 in India two years ago and 5-0 in India now.
"For this set of players - that have all the right ingredients to be successful - it's not good enough."
Vaughan wants more English wickets to be prepared like the slow turning pitches found on the sub-continent.
He added: "We're playing a different brand of cricket in England that we're not getting away from home.
"They have got to reverse that and start preparing wickets in England that aren't all the traditional wickets of green grass.
"A flat wicket without a huge amount of pace and spin should come into play a lot more.
"It would enable players to play more often on these kind of pitches you play on overseas."
Vaughan's views come as England coach Andy Flower says his middle-order batsman are fighting for their one-day places ahead of the series against Pakistan.
England play a Twenty20 game against India on Saturday before flying home for a 10-week break ahead of the Pakistan series in the United Arab Emirates.
The tour consists of three Tests, four one-day internationals and three Twenty20 matches during January and February.
And Flower told BBC Sport: "I'm sure there will be one or two changes going into the tour against Pakistan.
"We will get home and reflect - then make reasoned judgements."
Flower hopes the return of batsman Eoin Morgan, who missed the India tour after shoulder surgery, will boost his squad.
He said: "One thing any coach will tell you is you don't make snap judgements at the end of a defeat when you're making decisions about people's careers.
"You have to be very sound in your judgement and give yourself time to make good decisions.
"I think we do have to look at the way some of our batsmen have played spin out here. There's no doubt about that.
"Morgan, all being well, will come back in and that will help.
"But our batsmen haven't dealt with the spinning [ball] very successfully and we have to make decisions on results we've had out here."
Flower admitted Tuesday's loss was probably the hardest defeat of his England reign since they were skittled for 51 all out against the West Indies in 2009.
Craig Kieswetter and Alastair Cook put on 129 for the first wicket, but England then collapsed to 176 all out.
And Flower said: "It was a very tough defeat and the manner of the defeat was not particularly nice to be involved with.
"Our opening batsmen did a superb job to get us into a position to win the game and it was disappointing to see the middle order collapse like they did.
"Our sub-continent limited-overs cricket, our tactics, our personnel, the way we trained for it - it obviously hasn't worked and they've totally outplayed us."
Flower believes one of the positives to come out of the tour was a series of impressive displays from pace bowler Steven Finn.
The ex-Zimbabwe captain said: "Coming into the series he wasn't a first-choice limited-overs cricketer for us.
"But he has been the outstanding bowler in our side."
Blog: Ed Smith and Matthew Hoggard on what went wrong for England