Alastair Cook admits England were 'blown away' by India
Last updated on .From the section Cricket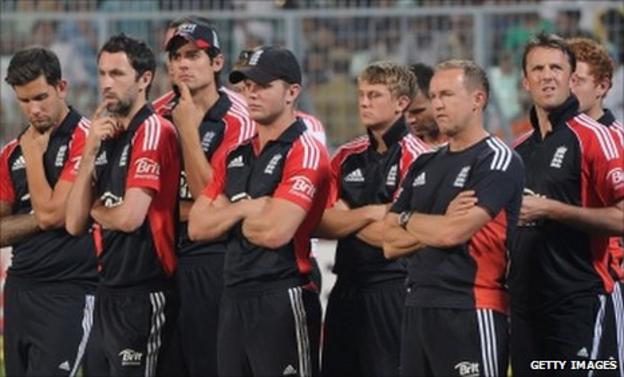 England captain Alastair Cook said he was shocked after seeing his team's batting "blown away" in Kolkata as India completed a 5-0 series whitewash.
Cook's side lost by 95 runs after collapsing from 129-0 to 176 all out.
He said: "It's a bit of a shock. We were in control. We know you can lose clusters in the subcontinent, but we didn't think you could lose all 10.
"It was just a massive collapse. We haven't batted well enough. We were in with a shout and just got blown away."
He added: "Winning becomes a habit and probably so does losing. Back in the summer when we were going so well, the confidence was high and we probably would have walked that game.
"When confidence is low, and they are on a roll, it's very hard to stop."
One-day skipper Cook believes that the side's lack of limited-overs experience is affecting them, which is why their results are so different to the Test team.
He said: "Our Test side is on a slightly different journey than this one-day side. We have got a lot of experience in that Test team. A lot of people know their games inside out. We've been in a lot of different situations.
"Our one-day side haven't been through that. You need experiences like that to realise what we've got to work on, but I can't fault any of the desire or effort to win.
"We got thoroughly beaten out here but there are quite a few positives. I thought Steven Finn, throughout the series, has been excellent.
"It didn't spin as much for Samit Patel and Graeme Swann. I didn't think it was going to spin as much as it did later on. It certainly did turn more and more.
"The conditions do play a big part. Not many of the lads have played a one-day series in India. It is totally different. They will benefit from that experience."
Discussing his own captaincy, he said: "It has been a very interesting experience. You do grow as a captain. Experiences like this certainly will help - although it's hard to find that now. Hopefully I'm nowhere near where I could be in a few years' time.
"Unfortunately, it's not the perfect end to the year. We came here with hopes of doing something very special and got nowhere near doing that.
"But, as a whole, England have had a really good year. This is obviously a little dent in that progress but the lads will pick themselves up, enjoy the two months and hopefully play some better cricket in Abu Dhabi [against Pakistan in January]."
England face one more match against India before that break - a Twenty20 game in Kolkata on Saturday.
India captain Mahendra Dhoni, who scored a vital 75 not out in Kolkata, said: "It was a very ugly-looking wicket and one ball can swing or keep low.
"It was very difficult to score on so we were fortunate to score 270."