Alastair Cook enjoying captaincy despite latest defeat by India
Last updated on .From the section Cricket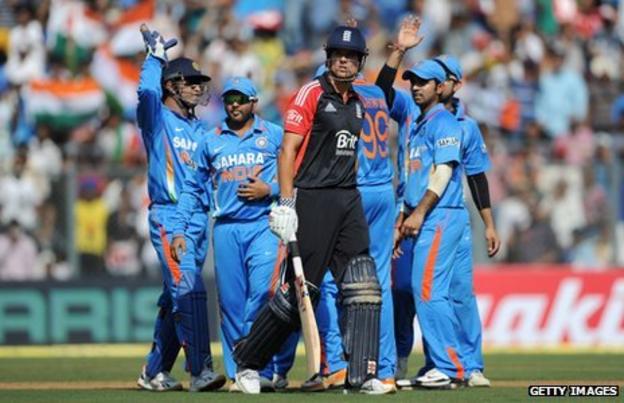 Alastair Cook says he is still enjoying being England one-day captain despite in Mumbai on Sunday.
England were dismissed for 220 and India then sealed a six-wicket victory to take a 4-0 lead with one game remaining in the five-match series.
Cook, who scored 10, said: "You know when you take over a young side it's never going to be straightforward.
"It's certainly a challenge, and one that I am strangely enjoying."
England managed to use only 46.1 of their 50 overs before being dismissed, while India secured another easy victory with 10 overs to spare.
Cook added: "It's been quite frustrating. I can't fault effort, commitment, desire - in training and out there when we play.
"We're definitely talking about the right things; it's just executing them out in the middle."
Cook also defended England's on-field behaviour after Steven Finn was criticised for his reaction when he finally dismissed Suresh Raina.
"I'd much rather the side play on that sort of edge than sit back and accept their fate," he said.
"It's desperation to win. I'd much rather the lads be in their faces and aggressive.
"There is always that balance, as we know, and part of our responsibility as a side is to get that.
"Sometimes on this tour, we might not have always got that balance - but I didn't see too much wrong today."
But the captain was less forgiving about his side's performance with the bat.
"You can look at all the analysis and talk as much as you want," said Cook. "But it's down to the individual to respond to that responsibility, and deliver.
"We're getting a lot of 30s and 40s, partnerships of 40 and 50. They're OK but they don't get you totals of 300.
"We're just not performing anywhere near to what we can do."
India captain Mahendra Dhoni is targeting a 5-0 clean sweep when the teams meet for the final game of the 50-overs series in Kolkata on Tuesday.
Dhoni said: "We will try our best. We have played good cricket overall and we'd like to end on a good note.
"We'll have to play good cricket again and we will be well prepared to win the last one. All the guys are giving more than 100% in the field and, in close games, 10 runs can matter."