Andy Flower says there is no tension over Graeme Swann's book
Last updated on .From the section Cricket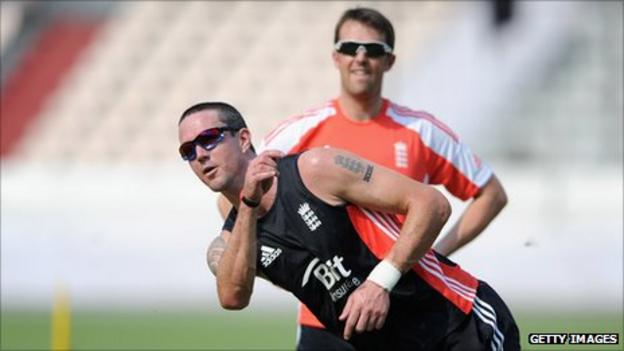 England team director Andy Flower says the publication of Graeme Swann's autobiography has not created tension in the side.
Its serialisation in the media led to close scrutiny of the pair before Friday's 126-run defeat by India.
Flower said: "I don't think it's a good idea for current players to be talking about their fellow players."
The former Zimbabwe wicketkeeper backed England to respond well in Delhi in Monday's second match and praised Pietersen, 31, for his "mature handling" of the situation.
Asked whether players should wait until after their careers are over to air their views in print, he said: "That's my personal opinion, yes.
"The written word does come across very, very differently when you can't judge a person's tone. Particularly with Swann's words, that is an accurate and important point."
Despite Swann's condemnation of Pietersen's short tenure as captain, which included a 5-0 one-day series defeat in India in 2008, Flower insists England's team spirit has not been damaged.
He added: "It's all been handled in-house - without many problems. Pietersen and Swann get on well and I think Pietersen has handled it very maturely."
Pietersen will now be looking to make his presence felt in the rest of the one-day series.
He has rediscovered his best form in Tests over the past 18 months, scoring 202 not out at Lord's in last summer's first Test against India and 175 at The Oval in the fifth.
But Pietersen has managed only two 50s in his last 31 one-day innings - stretching back to his seventh century against India in Cuttack three years ago.
England had to drop Ian Bell to accommodate Pietersen and rising star Jonny Bairstow at the Rajiv Gandhi International Stadium and Flower said of the batsman: "He is actually in very good form.
"His form in other formats during the last English summer was outstanding. He should be able to get runs out here."