Test ground could go bust - Lancashire chief Jim Cumbes
By Stephan Shemilt
BBC Sport
Last updated on .From the section Cricket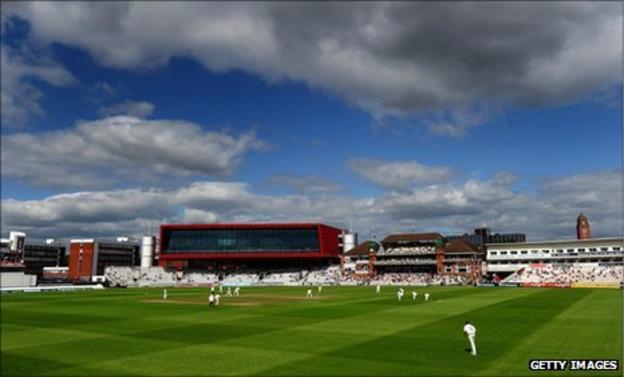 Lancashire chief executive Jim Cumbes has said bidding to stage Test cricket could lead to a county going bust.
In September Old Trafford was one of seven grounds awarded an Ashes Test in 2013 or 2015, but Headingley and the Rose Bowl missed out.
Cumbes told BBC Sport: "There are nine current Test match grounds, but only seven Test matches a summer.
"There is a danger, because not every ground can get the international matches, that a club could go bust."
Lancashire, who missed out on staging an Ashes Test in 2009, have made a significant investment in their home, spending £32m on improvements to Old Trafford that include rotating the square and building a new media centre.
"There are grounds that have been encouraged to develop and I suppose that they can expect to have the matches to fit that development," added Cumbes. "If they don't, they'll be miffed about it.
"After the allocation of matches, there will be two or three clubs out there that aren't satisfied."
By staging the third match between England and Sri Lanka in June, the Rose Bowl became the 10th ground in England and Wales to host Test cricket and the third new venue, following Chester-le-Street and Cardiff, in eight years.
That has led to suggestions that there are now too many Test grounds.
"I think everybody would accept that there are, but what can you do? You can't put the toothpaste back in the tube," said Cumbes.
Chester-le-Street has been awarded its first Ashes Test, and joins the 2013 schedule along with Old Trafford, Lord's, Trent Bridge and The Oval.
Lord's, Trent Bridge and The Oval will also host matches against Australia in 2015, when they are joined on the roster by Cardiff and the newly redeveloped Edgbaston.
Headingley will host a Test match for each of the next five years - New Zealand also tour England in 2013 and 2015 - but the Rose Bowl, which has undergone a £45m redevelopment, is scheduled for only one five-day game between now and 2016.
"There's no compulsion for any ground to choose to be an international venue," said an England and Wales Cricket Board (ECB) spokesman. "It's a business decision that the ground has to make knowing that it might not get the package it wants.
"Expanding the number of international grounds and creating a more competitive process has been good for the spectator because our grounds have become better."
Whereas in the past venues submitted blind bids for international matches, the ECB fixed the prices for the latest allocation and awarded the fixtures by examining each venue's "infrastructure, operations, legacy and community commitment".
Four separate match packages - platinum, gold, silver and bronze - were available, guaranteeing varying amounts of international cricket at an individual ground, with the prices understood to range between £12m and £250,000.
On the gold package, believed to have cost £5m, awarded to Trent Bridge, Nottinghamshire chief executive Derek Brewer said: "Our objective is to remain at the forefront of world cricket.
"When we hosted the World Twenty20 in 2009 the economic impact [to the East Midlands region] was in excess of £12m.
"With two Ashes Tests in three years we have a very strong portfolio that could bring in between £20m and £30m for the region.
"It's a significant return on the local authority investment because they certainly helped us with our ground redevelopment."
For the latest updates and reaction to this story read Sportsday Live. Have your say on Twitter via the hashtag #bbcsportsday.