Reaction as England beat India to move top of the cricket rankings
Last updated on .From the section Cricket
Players and pundits give their reaction after England thrash India in the third Test to ensure a series victory and top spot in the world Test rankings.
Having been bottom of the rankings in 1999, the team are now unbeaten in series since May 2009.
ENGLAND CAPTAIN ANDREW STRAUSS
"There's been a lot of hard work and I feel very proud and honoured. We should really enjoy the fact we've achieved one of our goals, it's a reward for consistency over a long period of time.
"We've had to earn the right to get on top. We've got more confident and they've [India] got less confident as the series has gone on We've done some amazing things and hopefully there are more to come."
PACE BOWLER JAMES ANDERSON, WHO TOOK THE FIRST FOUR WICKETS IN INDIA'S SECOND INNINGS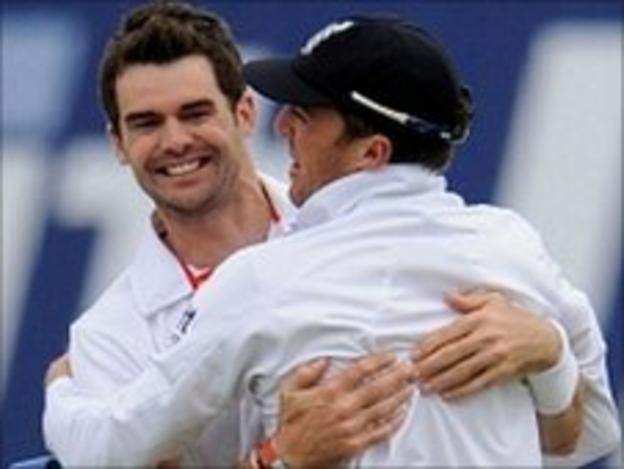 "We set our stall out this morning and said it was going to be a long day, that we would have to toil and build some pressure, but we got some quick wickets. It just did enough and kept us interested in that first hour.
"Straussy is in a good position he's got four bowlers he can call on at any time he knows what he's going to get from those four bowlers and there is no weak link.
"We've worked so hard to get here and hopefully we can keep improving, we want to be one of the best England teams there ever has been."
ENGLAND BATSMAN KEVIN PIETERSEN
"It's nice, it's definitely a time to celebrate something special for England but also not to rest on our laurels, we made that mistake in 2005 [after winning the Ashes].
"When you get to the top you are right for a very good slamming - it's a scary place to be in this country - but we have to concentrate on getting better.
"Our bowlers are absolutely phenomenal, we attack on flat wickets, all our batsmen are averaging 50 and we have an opening batsman averaging 150. You could say India haven't performed to certain levels - we haven't let them perform."
BATSMAN ALASTAIR COOK - WHO SCORED 294 IN ENGLAND'S INNINGS
"It's a very proud moment and to be world number one is very satisfying. Getting to number one is a huge moment and we'll enjoy it tonight. We can do something very special but for now we'll enjoy the moment."
ENGLAND SPINNER GRAEME SWANN
"We set out to be number one two-and-a-half years ago and it looked ridiculous, to beat Australia home and away but this team works very hard. Coach Andy Flower pushes us to the hilt and I know him, he will keep doing so."
ECB MANAGING DIRECTOR HUGH MORRIS
"We are very proud to have won the series and become number one.
"To win the World Twenty20 in West Indies, to win in Australia for the first time in 25 years and then this, beating India to become number one, was the latest target.
"Andy Flower made sure the players kept their feet on the ground, and now we are plotting how to stay number one with a tough winter ahead of us."
FORMER ENGLAND CAPTAIN AND TEST MATCH SPECIAL PUNDIT MICHAEL VAUGHAN
"It started years and years ago in 1999 or 2000 with central contracts. The ECB invested lots of money bringing players through all the age groups from age 15 upwards. Many people have done good things.
"There has been lots of great work but the key thing has been a change in mentality."
INDIA CAPTAIN MAHENDRA DHONI
"This team will come back. It hurts to lose each and every game - every time we lose a game, irrespective of whether it loses a series, it hurts.
"You can only be number one by playing consistent cricket, and England have done really well."
AUSTRALIA CRICKET LEGEND SHANE WARNE
"The current England side is very impressive - bring Trott in for Bopara and there is no weak link. There is variety in the bowling and all the batters are in form."
ICC CHIEF EXECUTIVE HAROON LORGAT
"They were clearly the most consistent side in the world over the past few years as evidenced by their 19 out of 30 Test wins and only four loses.
"This achievement is just reward for the hard work from all the players and team management, and they no doubt will celebrate being on top of the world."
"On behalf of the ICC, I would like to congratulate Andrew Strauss, [coach] Andy Flower and the whole team for becoming the number-one ranked Test team in the world."
FORMER ENGLAND SPINNER AND TEST MATCH SPECIAL PUNDIT VIC MARKS
"Strauss has done a terrific job as captain, they respect him so much, he's got no ego at all.
"This group could go on for quite a long time, could this be a real golden period for England cricket? They have to beat South Africa and sides in the sub-continent to achieve that."
ROB SMYTH - THE GUARDIAN
"Two Zimbabweans, Duncan Fletcher and Flower, have changed the DNA of English cricket and completed an unforgettable triptych: winning the Ashes, winning the Ashes in Australia, and now this.
"All the little numbers add up to the most blessed number of all: England are officially the No1 Test team in the world."
SIMON WILDE - SUNDAY TIMES
England swept to the top of the world Test rankings in the manner of champions yesterday. It did not simply beat India, the side which had been rated No 1 for 20 months. It eviscerated them.
THE TIMES OF INDIA
"Duncan Fletcher has been caught in a real dilemma. The reputation he made in England has been lost in the very land of his glory.
"Besides some inspirational words, there is little he can advice to India's batting prima donnas. His work on youngsters meanwhile isn't showing on the field."
INDIAN EXPRESS
"England No.1, India zero,"
Listen to Jonathan Agnew and Geoff Boycott's review of the final day's play on the TMS podcast