Stephen Moore column

By Stephen Moore
Lancashire and England Lions batsman
Last updated on .From the section Cricket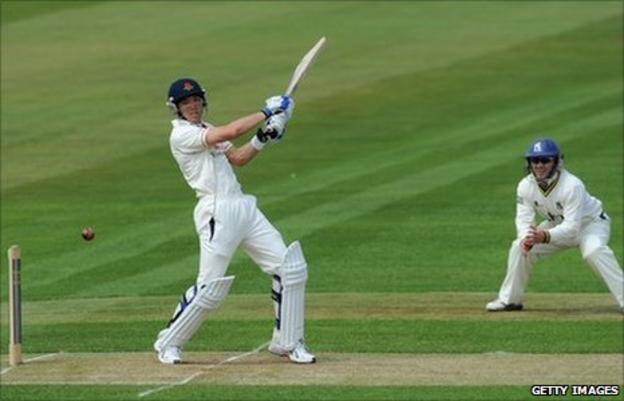 Opportunities for reflection have been few and far between in a season that has been a rollercoaster affair across the three different formats of county cricket.
We have just been given such an opportunity, with five days without a competitive match, and it could not come at a better time.
With six weeks of the season left to play, we are one of only two counties that can feasibly win all three competitions, the other being Somerset.
Whether or not we can or will achieve any of our goals remains to be seen, but we are privileged to be in such a position.
One of the benefits of the current structure is that there is very little meaningless cricket.
A combination of result wickets and two-up, two-down relegation has made for pressure situations until the very end of the season, which can only help produce England cricketers ready for the international stage.
Watching the England team play great Test cricket has been inspirational, and if they continue in the manner with which they have started the current series against India, they will surely be ranked the best Test team in the world by the end of this month.
There have been many articles written and comments made about the reasons for this ascent to the pinnacle of the sport, but if they are to etch themselves into history and create a legacy, it will be their ability to remain at the top that will be their biggest challenge.
This challenge can only be achieved if county cricket remains one of the toughest seasons in the cricket-playing world.
It will be the quality of the fringe England players, together with the next generation of superstars, that will set us apart from the rest of the world and enable us to strive to be mentioned in the same breath as the West Indies of the 1970s, or Sir Don Bradman's Invincibles of 1948.
As a club, Lancashire is rooted into the very fabric of county and international cricket and, with the impending redevelopment of the ground, hopefully its place will be secured for many more generations.
After beating Sussex in the FL t20 quarter-final, we are presented with our first opportunity of the season to produce some silverware, and in so doing leave our fingerprint on the club's history.
In the context of England cricket, it will be a barometer for our future success at international level, with potential international stars able to showcase their skills when the pressure is on.
Whatever our outcome as a team, it will be great to be involved, as finals days do not come around often in a sportsperson's career.
It is however only one day in the season, and we have three more CB40 matches left to play in our bid to qualify for the semi-finals.
This, together with the fact that we are in the race to win the Championship, means that every day will be one to relish.
After all the winter training, pre-season matches, and four months of jostling we could not have asked for more.
As a team we are taking our first small steps in building our own legacy, and hopefully individuals within our side can go on to achieve huge things with England.
It is the collective responsibility of players, officials, coaches, and clubs at county level to continue to promote a structure and standard of cricket that enables us as a country to leave other nations in our wake.
You can follow Stephen Moore on Twitter at: http://twitter.com/stephen_moore6 (external site)