Fletcher defends India's batting after third Test woes
Last updated on .From the section Cricket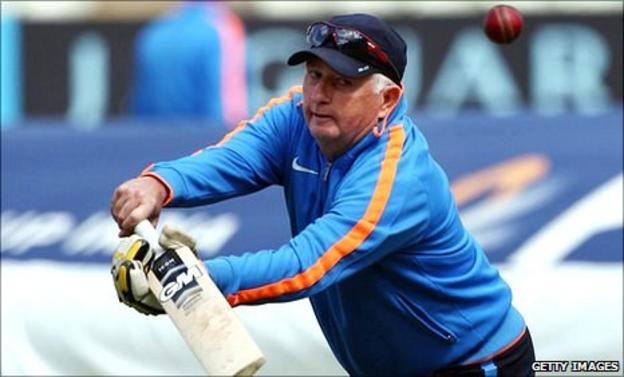 India coach Duncan Fletcher claimed his struggling batsmen were victims of the conditions after they limped to 224 all out on day one of the third Test.
"Our guys are finding it difficult at the moment to handle the swing and seam," he said. "They've practised, and there's not much more they can do.
"I've not seen three pitches... that have swung and seamed around as much as these have in three Tests."
But England's Tim Bresnan said the pitch "didn't really do that much".
He and Stuart Broad took four wickets apiece as , whom they will usurp as the world's number one Test team if they win at Edgbaston.
Captain Mahendra Dhoni's rapid 77 saved struggling India from total embarassment as they recovered from 111-7 after losing the toss and being asked to bat first, after which Andrew Strauss (52) and Alastair Cook (27) took England to an imposing 84-0 by the close.
"It was pretty tough," said Fletcher, the former Ashes-winning England coach.
"Unfortunately that toss was pretty important. Those two wickets that England got just before lunch really put us on the back foot. It's been pretty difficult for the batsmen to adapt."
Rather than the effects of cloud cover and a green pitch, Bresnan put England's success down to hard work and skill.
"As a seamer you look at the wicket and think 'I'd prefer to bowl on there than watch someone bat on it'," he said.
"But it didn't really do that much. The pitch is playing all right, so hopefully we can get stuck in and get a lead. We were expecting it to be a bit quicker and seam a bit more - so it's a good effort.
"It swung a bit, but not like Trent Bridge did. So it was a case of building pressure. It's a great day's Test cricket for us.
"The bottom line is you've got to bowl well to bowl out this batting line-up.
"But we've got our plans right, and delivered what we said we were going to do - and at this moment in time, those plans are working.
"There's definitely that 'hunting-in-a-pack' mentality, and we do enjoy each other's success. It's good to watch your mate get four or five-for, or have a really good day with the bat."