Leicestershire's Paul Nixon announces his retirement
Last updated on .From the section Cricket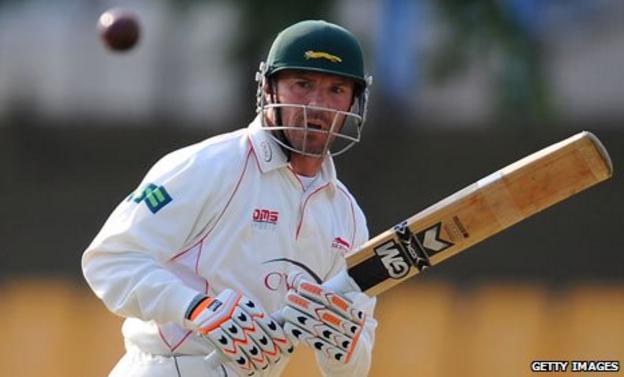 Leicestershire wicketkeeper Paul Nixon has announced he will retire after Saturday's FL t20 quarter-final against Kent at Grace Road.
The 40-year-old, who won two County Championships with the Foxes and two Twenty20 titles, made his first-class debut in 1989.
"My body knows now. I can't do it the way I want to do it anymore; the way I've always done it," he said.
"I cannot keep up to those high standards anymore."
He added: "All of my mentors said to me that you'll know when the time is right and the time has come. I've thought about it for a few months now and am at ease with it. It's time for the youngsters to have their journeys now.
"I've met some amazing people along the way and have some special memories. I've loved every ball on the pitch and every moment I've been involved in off the pitch too. It's a very special life and I've made sure that I've never taken it for granted."
Nixon captained Leicestershire in 2007 and 2008 and helped them to County Championship titles in 1996 and 1998 before joining Kent between 2000 and 2002.
The Cumbria-born left-hander returned to the East Midlands in 2003 where he became instrumental in the club's success at the newly-formed T20 format.
He was drafted into England's one-day side in Australia in 2006-7 and held his place for the subsequent World Cup.
"I've had a very special journey over the years and I've always been thankful to Ken Higgs and Mike Turner for signing me for Leicestershire in 1988," Nixon continued.
"The Leicester public has been absolutely phenomenal towards me and I want to thank them for all of their support. I want to thank them for all of the letters they've sent and all of the good luck messages as I've walked onto the pitch."