Jonathan Agnew column

By Jonathan Agnew
BBC cricket correspondent at Trent Bridge
Last updated on .From the section Cricket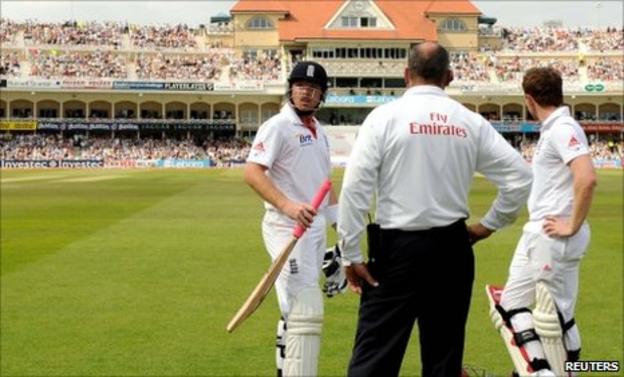 The Ian Bell run out incident could have had very serious ramifications as far as the rest of the series is concerned and I whole-heartedly applaud Mahendra Dhoni and India for their decision to reinstate the England batsman.
The laws are the laws, they have to be adhered to and they keep the game together. But every now and then there is the application of common sense alongside those laws and that is absolutely what happened today.
Technically, Bell was out and he is very fortunate that India looked at it and changed their review.
But the complication was the reaction of fielder Praveen Kumar. Everyone who has played club cricket knows that when the ball goes over the boundary you lob it back in a different way, and he threw it back in a manner that suggested he thought it had gone for four.
Bell clearly thought that and the fielders thought that too, because if you look at the expressions of everyone on the field they were acting as if that was the end of the session.
I think India were perfectly entitled to appeal as I'm sure most people would have done, but they will have looked at the replays in the dressing-room and realised what had happened.
I'm very surprised that the International Cricket Council praised England as well as India in their statement.
This was entirely India. Andrew Strauss and Andy Flower asked them to review it, they thought about it and they did. And they did it despite the fact that they will probably lose the game.
I don't think India were to blame for taking the bails off and I don't think Kumar was to blame, because he thought it was four runs. If anyone was at fault it was Bell and the people that must take all the credit are the Indian team.
Cricket does throw up these situations and captains have not always been so sporting.
I was very cross with Paul Collingwood when he went through with a run out when Ryan Sidebottom collided with Grant Elliott of New Zealand in 2008.
What was disappointing was that there was long enough for Collingwood to think about it because Elliott was injured and he still insisted on it being out.
When Strauss recalled Angelo Mathews in the Champions Trophy the following year, he cited that example as the reason why he wanted to bring Mathews back.
Their sporting behaviour over Bell aside, India were awful. They just haemorrhaged runs all day and allowed England to take them to the cleaners.
The tourists just don't seem to have any depth or drive, their fielding has been very poor, and there is no lift and encouragement among the players.
It would take some special batting from India to stop England winning now. They would have to play incredibly well because England's quicker bowlers will get more out of this than India have done.
Aggers was talking to BBC Sport's Sam Sheringham.
Listen to Jonathan Agnew and Geoff Boycott's review of the day's play on the TMS podcast.