Jonathan Agnew column

By Jonathan Agnew
BBC cricket correspondent at Trent Bridge
Last updated on .From the section Cricket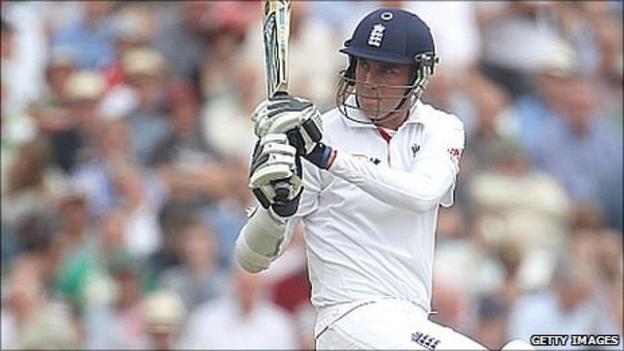 If you want to be the number one Test side in the world, you have to be able to recover from positions of adversity and that means someone has to stand up and be counted.
It was Matt Prior in the second innings at Lord's, with support from Stuart Broad, and here Broad led the way with exactly the right sort of innings.
At 124-8, England needed to counter-attack and play a few shots, and that is exactly what Broad and Graeme Swann did. It wasn't reckless, it was controlled aggression, and it turned things around brilliantly.
As many people know, I am a big advocate of Broad batting at number seven, because it would open up so many possibilities for England, and once again he showed what a capable batsman he is.
I would love to see a confidence chart of Broad over the last seven months. From bumbling along the floor suddenly he is up in the sky. It was a great performance in county cricket that started it all off for him, and those were priceless runs today.
Broad and Swann batted brilliantly to turn the tables after tea but they were assisted by some strange captaincy by Mahendra Singh Dhoni. When your fielders are scattered all over the place, you lose the initiative and that is definitely what happened.
It was a shame for India because they had bowled really well to get the home side into such trouble, exposing the technical failings some of England's batsmen have against swing bowling.
As we saw with Pakistan last year, good swing bowling exposes flaws in footwork more than anything else and it is tough to bat against really good exponents of it.
India made a great call in picking Sreesanth to replace Zaheer Khan. They could have chosen Munaf Patel, but they went for that little bit of extra spikiness and it was a good selection.
Ishant Sharma also performed well for his three wickets but I thought Praveen Kumar was the pick of the India bowlers. He shuffles up and swings the ball both ways and I don't think anyone is picking him.
The ball he produced for Swann was an absolute brute, it was simply unplayable. The question is was it a one-off or an early sign of what this pitch might do? If more balls start taking off like that, 221 will look a good score.
India made the worst possible start with the bat, but I thought VVS Laxman and Dravid really hung on well there at the end. To stick out 15 overs was a tremendous effort.
Having said that, I don't think they were made to play quite enough and England just needed to bowl that little bit straighter. At this level of cricket, two inches is the difference between playing the ball and leaving the ball and India were able to leave a little bit too much.
The match situation depends very much on the weather. Apparently, it will be cloudy again for much of Saturday, and England will be hoping that is the case.
England's score of 221 doesn't look like many, but when you see the way that Dravid and Laxman were clinging on, it may turn out to be a good score.
If that is the case, Broad's innings could even turn out to be the difference between the two sides.
Listen to Jonathan Agnew and Geoff Boycott's review of the day's play on the TMS podcast.
Aggers was talking to BBC Sport's Sam Sheringham