Gloucestershire bowler Jon Lewis to join Surrey
Last updated on .From the section Cricket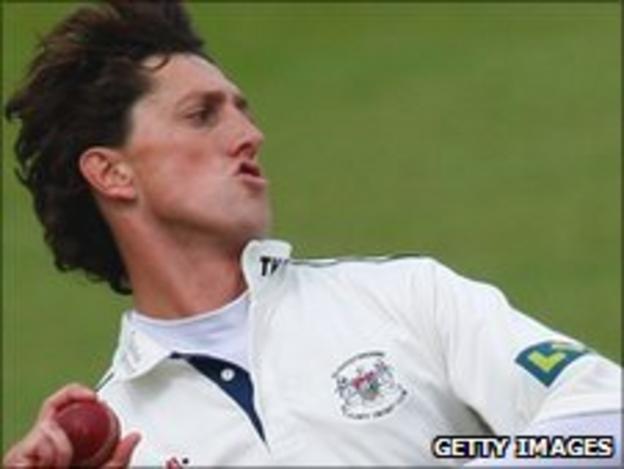 Gloucestershire have announced that bowler Jon Lewis will leave the county at the end of the season and join Surrey on a two-year deal.
Lewis, 36, made his debut in 1995 and went on to appear in 222 first-class matches, 212 one-day games and 56 T20s.
He also played one Test for England, 13 one-day internationals and two T20s.
He told BBC Gloucestershire: "Decisions like this never come quickly, and if you do it quickly; it's probably not the right thing to do."
He added: "I took a lot of time to decide but what I needed was something sorted out reasonably soon.
"I wasn't really prepared to hang around for ifs and buts, there were a few factors that I had to think through but I'm a professional sportsman, I'm nearly 36 and I need to find employment.
"The world is a topsy turvy place at the moment and I have a mortgage to pay. I need to be employed. My business is cricket and I needed to make a business decision.
"There was lots of offer and I felt the Surrey one was the best one for me.
"To pick out individual highlights would do the people I have played with a disservice. Everyone sticks together and you have a beer at the end of the game.
"I've been privileged to have played for such a long time for such a great club. I've enjoyed their company and I'll enjoy the company of the guys at Surrey."
Director of cricket John Bracewell said: "Jon was one of the players involved at the start of an era that stands out in Gloucestershire's history.
"He went on from there to captain the club and represent England both in Test cricket and at a World Cup.
"His contribution both as a player and latterly as a mentor to the young players at Gloucestershire is immeasurable. I wish him all the best."
In his time at the club, he took 772 first-class wickets and scored 4,085 runs. In his sole Test at Trent Bridge in 2006, he took 3-122 against Sri Lanka, scoring 27 runs.