Dhoni pleased with display after Zaheer Khan injury
Last updated on .From the section Cricket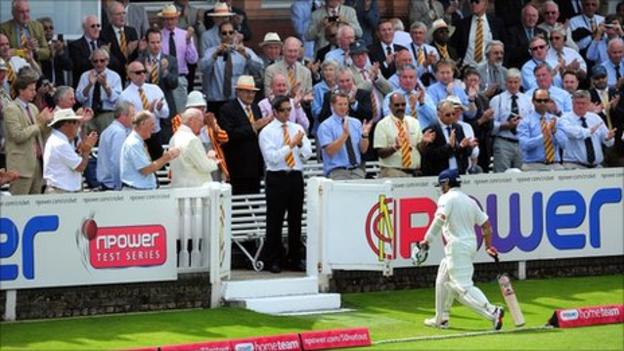 India captain Mahendra Dhoni said he was relatively pleased with his team's first Test defeat by England after losing one of his key bowlers.
Zaheer Khan's hamstring injury meant the tourists were reduced to three bowlers for much of the match, while Sachin Tendulkar also had a fever.
Dhoni said his star batsman should be fit for the second Test at Trent Bridge on Friday but was not sure about Khan.
"Sachin should be fine but [on] Khan we are not 100% sure," he said.
"Let's hope for the best and see over the next couple of days, hopefully he will be fit."
England bowler Jimmy Anderson took five wickets on the final day to dismiss India for 261 in their second innings, thereby earning the hosts a 196-run victory.
Only VVS Laxman (56) and Suresh Raina (78) offered any real resistance, while Tendulkar was one of Anderson's victims for a mere 12 runs.
"I am a bit disappointed, but over five days - the cricket we played - we got a lot out of it," Dhoni told BBC Test Match Special.
"In the first innings we lost Zaheer Khan so we were playing with three bowlers, two fast bowlers and one spinner.
"It was very difficult to manoeuvre our bowling attack and it put pressure on our fast bowlers. They had to bowl around 60 overs each which was very tough. Then Tendulkar had a viral fever.
"A lot of things went wrong, but overall I am quite happy and hopefully the second Test will be more interesting than this."
At one point wicketkeeper Dhoni had to bowl, such were his limited options in the attack, but he did not believe that the laws should be changed so he could bring in another bowler in such circumstances.
"It's part of the strategy," he added. "If you are playing with four bowlers and something like this happens you have to accept what happens rather than crying about it.
"I don't think the law really needs to change. It was a courageous attempt by the bowlers still to put pressure on England. They did a really good job."
If Khan fails to be fit in time for the second Test India could bring in Sreesanth or Munaf Patel as a fast-bowling replacement.