Jonathan Agnew column

By Jonathan Agnew
BBC cricket correspondent at Lord's
Last updated on .From the section Cricket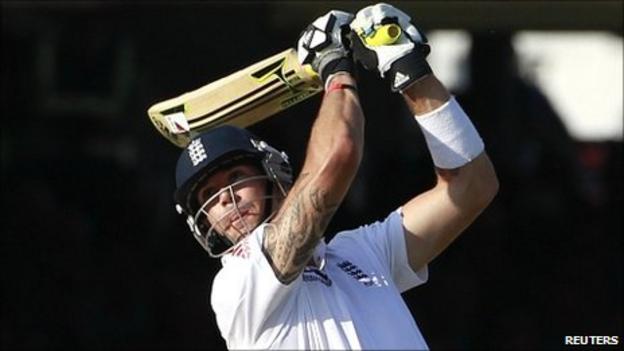 Kevin Pietersen's unbeaten double hundred was an extraordinary innings and one that you have to admire for its determination.
It seems ridiculous when someone plays that sort of innings to talk about hard work but that is exactly what it was. He continued playing the way he played on the first day and it wasn't until he got his 150 that he really began to play his shots.
Perhaps the criticism of Pietersen is that we haven't seen him play like that often enough. When things aren't going well for him he gets out. This innings has been like batting in the dark, and yet he found his way through.
It was by no means a classic innings by his standards, and yet it will give him huge satisfaction. You have to admire the way he has done it. He has shown what he can do.
Seeing Pietersen play in that way will thrill team director Andy Flower and chairman of selectors Geoff Miller, who have had words with him and told him he really has to go out there and start performing.
People have been talking about his position in the side, but he has shown again what he is capable of producing. He is such a fine player. It is just a question of producing it under pressure.
He had his moments of good fortune along the way, but if you bat for that long there will be chances.
With regard to the Rahul Dravid catch that was given not out by the third umpire, I am inclined to believe Dravid because I have known him for a long time and he is very trustworthy. But you can never be sure and you have to give the batsman the benefit of the doubt.
I did a tour of the pundits in the commentary boxes and it was about 50-50, with half the people saying he was out and half not. But these things almost always go the way of the batsman because of the two-dimensional angle you get from the television.
It is impossible to overstate how badly India missed Zaheer Khan and we still wait to find out the full extent of his injury, with the India camp saying very little.
The absence of Zaheer left young Praveen Kumar with a big role to play and he bowled brilliantly on day two.
He is an old-fashioned type of bowler, but he swings the ball both ways and he bowled especially well to Ian Bell, who simply couldn't pick him and was eventually out caught behind.
Kumar gives the impression of ambling up and he is not particularly quick, but he bowled well in these conditions and I think he will be effective at Trent Bridge too.
England are in the box seat in this Test match, but Saturday at Lord's is all set up for Sachin Tendulkar as he chases that historic 100th international century.