Sangakkara speech lands Sri Lanka Cricket in trouble
By Saroj Pathirana
BBC Sinhala service
Last updated on .From the section Cricket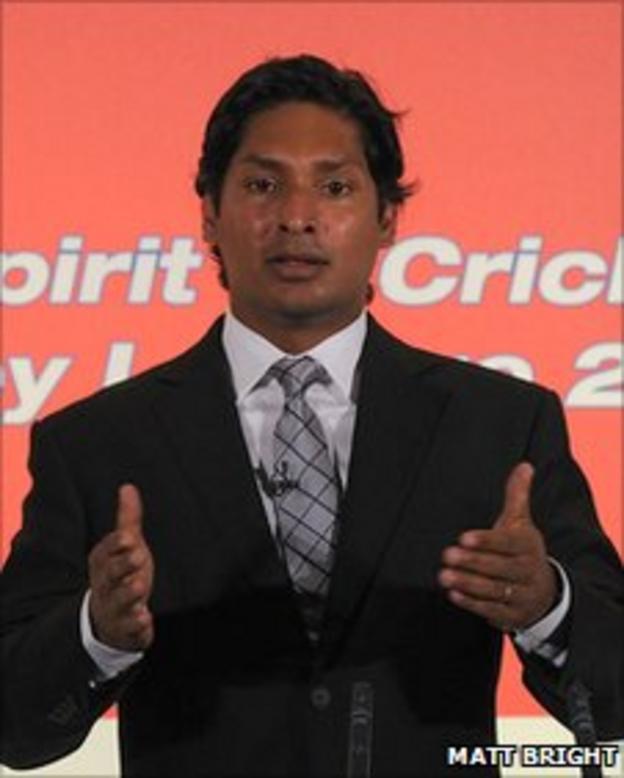 When Kumar Sangakkara took to the podium to deliver the annual Cowdrey lecture at Lord's he was fully aware that the words he had prepared would send a shockwave through Sri Lanka's cricket establishment.
But by voicing his belief that the development of the game in Sri Lanka has been hindered by constant turmoil off the pitch, he was merely echoing the thoughts of many fans.
Cricket in Sri Lanka has been overseen by interim administrations regularly hired and fired by ministers who have also launched many investigations into allegations of corruption.
None of the subsequent reports were ever made public, though, and no former official has ever been charged.
Sangakkara's speech was delivered at a time when Sri Lanka Cricket (SLC) also faces a financial crisis after co-hosting the 2011 World Cup with India and Bangladesh.
In addition, the authorities are struggling to launch the Sri Lanka Premier League (SLPL) after India refused to allow any of its star players to take part, because they suspect the involvement of Lalit Modi. He faces corruption charges over the running of the Indian Premier League.
Meanwhile, whenever elections for the Sri Lanka board are held, they seem to be marred by ugly scuffles.
"Accountability and transparency in administration and credibility of conduct were lost in a mad power struggle that would leave Sri Lankan cricket with no clear, consistent administration," said Sangakkara, who captained his country to the World Cup final earlier this year and is currently playing in the one-day series in England.
"After 1996, the cricket board has been controlled and administered by a handful of well-meaning individuals, either personally or by proxy rotated in and out depending on appointment or election.
"Unfortunately, to consolidate and perpetuate their powers they opened the door of the administration to partisan cronies that would lead to corruption and wanton waste of cricket board finances and resources. It was, and still is, confusing."
Apparently sensing trouble, the International Cricket Council recently moved to end political influence in the game by ordering its member countries to elect their national boards instead of allowing governments to hand-pick administrators.
Despite ruffling many feathers in the establishment, Sangakkara's lecture has been hailed as an oratory masterpiece by many in Sri Lanka as well as abroad, and cricket fans - commenting on message boards - have applauded him for speaking out, albeit belatedly.
He is the first cricketer to dare to speak up against the administration while being a contracted player and, in the opinion of Channaka de Silva, sports editor of the Colombo-based Daily Mirror, by giving such a speech, he also indirectly admitted that he did not give the entire story when he said his own resignation from the captaincy was decided weeks before the World Cup began.
Sangakara's views merely confirm what Trevor Bayliss said when he ended his term as Sri Lanka's coach.
"I am constantly amazed how well the players do, with all the distractions put in front of them. It seems to be the sub-continent way. That's a skill in itself," the Australian commented.
Arjuna Ranataunga, who was Sri Lanka's World Cup winning captain in 1996 and has also served a year as a political appointee in the SLC, has continuously criticised corruption in the game and even provided documentary evidence to parliament.
But now, instead of launching an investigation into the latest allegations, sports minister Mahindananda Aluthgamage has ordered new Sri Lanka Cricket chairman Upali Dharmadasa to investigate and submit a report on Sangakkara.
In an apparent remark about Sangakkara, the minister said: "What has been happening was the player trying to be the ruler. If the player becomes the ruler we can't play a game."
Mr Dharmadasa described it as a "good speech" by Sangakkara but told the BBC Sinhala service that he should not have spoken about the cricket administration while under contract.
Recently, the government was accused of exerting pressure on the selectors to include Sanath Jayasuriya, a ruling party MP or a "ruler", in the one-day squad for the series in England.
As Sangakkara himself said: "Players from within the team itself became involved in power games. Officials elected to power in this way in turn manipulated player loyalty to achieve their own ends.
"At times board politics would spill over into the team causing rift, ill-feeling and distrust."
Cricket observers in Sri Lanka are, however, of the opinion that all former captains, including Sangakkara himself, have given preference to their own while picking teams for matches.
Despite that, fans are angry that the authorities are now trying to put the blame solely on the players - the BBC's Charles Haviland says that one even suggested that it could spell the end of the current government if they "touched" Sangakkara.
Following his decision to use a public platform to air his views, the entire cricket world will be watching as the situation develops.