Alviro Petersen hopes Glamorgan give youth a chance
Last updated on .From the section Cricket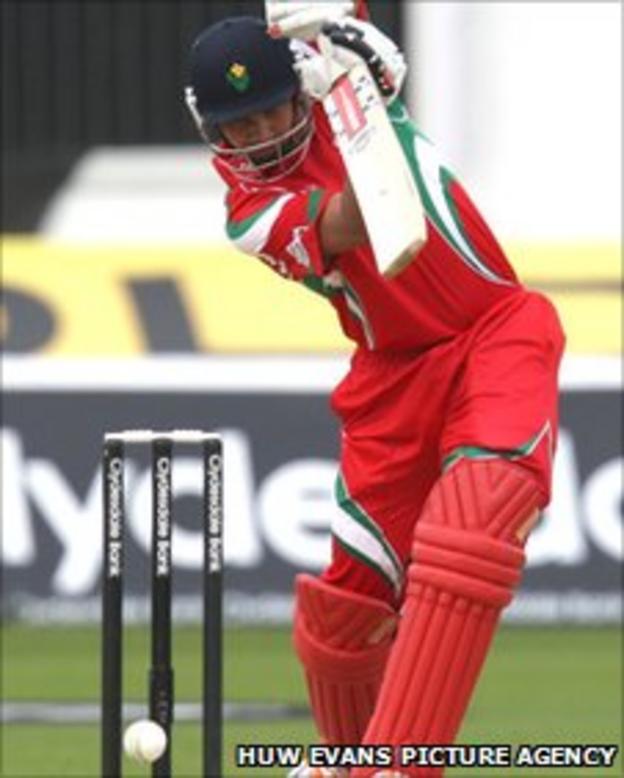 Glamorgan captain Alviro Peterson wants young players to be given a chance after his team suffered a fifth successive FL Twenty20 defeat.
Somerset spinner Arul Suppiah bowled the best Twenty20 figures recorded in world cricket to inflict a five wicket loss on Glamorgan in Cardiff.
Suppiah took six wickets for five runs in 22 balls as Glamorgan tumbled from 72-4 to 98 all out on Tuesday.
"It's important that we look to the future now," said 30-year-old Petersen.
"I think there will be a lot of young guys coming in now.
"Maybe it's time for this club to move on from playing more experienced guys to having a look to the future and seeing what they can produce.
"I'm not saying the experienced guys won't be playing in this team, or next year, it's purely a case of giving young guys an opportunity."
Somerset stumbled themselves on 44-4 before Kieron Pollard hit 31 off 20 balls to win by five wickets at the Swalec Stadium.
Suppiah, 27, is now in his 10th season in county cricket but had never previously taken more than four wickets in an innings for Somerset.
"It's not nice for opposition to come here and get a world record against us," added South African Test opener Petersen.
"You've got to give credit to him [Suppiah], he did everything right and it came off today."
During the live commentary of the game on BBC Radio Wales, Petersen was criticised for using part-time bowler Gareth Rees rather than giving Robert Croft his full allocation of overs.
Former England off-spinner Croft, the county's leading wicket taker this season in t20, had taken three wickets for nine runs in his three overs.
Rees went for nine runs in his solitary over.
"I knew that hopefully they [Somerset] were going to obviously try and score the runs in that over off Gareth which gives us the opportunity of taking a wicket," Petersen said.
"I was a bit surprised with the comments from some people.
"They either have a lack of knowledge for this game or they just don't understand what's happening."
Petersen will leave Glamorgan at the end of the season but confirmed he will help current coach Matthew Mott to build a new team.
"It's important that we look to the future now and I'll be happy to assist with that," he added.
"I won't be coming back [next year] and I'd like to get to as close a team that Matthew would like for next year."
Hopes of a place in the quarter-finals of the Friends Life Twenty20 were all but ended with defeat to Somerset but with four games remaining, starting with a trip to Sussex on Thursday, Petersen has faith in a new-look side.
"It looks like we're out of the competition now so it's no use playing the same team all the time," he said.
"I'm sure one of these youngsters will bring energy with them and that's exactly what we want.
"A guy like Nick James, who has scored a double hundred in a second team game this year."
He added: "We want to win [against Sussex]. "It might be with a different team but that's just the way we've got to go."