Stuart Broad fined by ICC for showing 'serious dissent'
Last updated on .From the section Cricket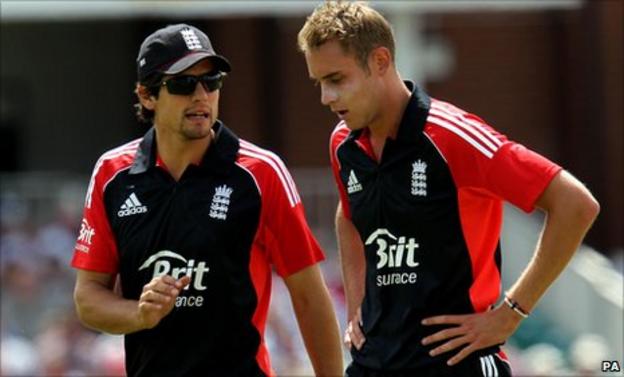 England pace bowler Stuart Broad has been fined 50% of his match fee for Friday's second one-day international against Sri Lanka at Headingley.
Broad was punished by the International Cricket Council for "showing serious dissent" after umpire Billy Bowden turned down an lbw appeal.
The Nottinghamshire player admitted the offence after the close of play.
"Stuart's behaviour was not acceptable in any form of cricket," said match referee Alan Hurst.
"Accepting an umpire's decision is an essential feature of cricket and part of the game's unique spirit.
"As a well-established member of his country's national side and current captain of the Twenty20 international team, Stuart must take responsibility for what he says and does."
The incident in question occurred in the final over of the Sri Lanka innings when Broad, who conceded 70 runs in 10 wicketless overs, was unsuccessful with an appeal against Jeevan Mendis and made "unacceptable and offensive remarks" to Bowden as he left the field.
England went on to lose the game by 69 runs as Sri Lanka drew level at 1-1 in the five-match series.
It is not the first time that Broad, who was elevated to the Twenty20 captaincy earlier this year, has let his temper get the better of him.
Last summer, he was fined 50% of his match fee for throwing the ball at Pakistan batsman Zulqarnain Haider during the second Test at Edgbaston, although he quickly apologised on that occasion.