Gloucestershire ton as good as World Cup - O'Brien
Last updated on .From the section Cricket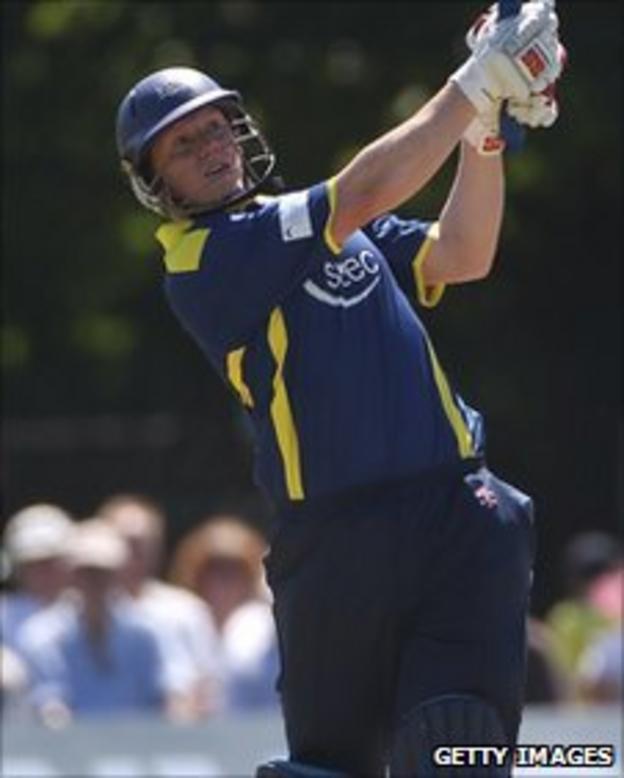 Gloucestershire's Kevin O'Brien has said his century against Middlesex in the FL t20 was as good as his ton for Ireland in the World Cup.
The 27-year-old hit a blistering 119 off 52 balls to help Gloucestershire finish on 254-3 and claim a 105-run victory on Sunday.
He made the record books in March when he claimed the fastest century in World Cup history against England.
"It's up there with the Bangalore innings," he told BBC Radio Bristol.
"I was hitting it as well as I did in the World Cup against England so it's just a fantastic day.
"I'm probably still in a bit of shock to be honest, but I've had 20 overs to think about it in the field so I guess it's sunk in a little bit quicker than the innings in Bangalore."
The Dublin-born batsman joined Gloucestershire in May, two months after making 113 off 63 balls to help Ireland overhaul England.
O'Brien, who smashed seven fours and 11 sixes at Uxbridge, reached a first-wicket stand of 192 alongside Hamish Marshall, the highest for any wicket in Twenty20 cricket in England.
Despite his impressive figures, he was modest about his achievements: "We have been lacking a little bit of luck but today we were lucky.
"You need a bit of luck and I think that's something we haven't had as a team in a few of our Twenty20 games. We haven't played well in a few of them and we'll hold our hands up to that.
"It was a good wicket and small enough ground but you're facing good quality bowlers. You've got guys who have played in World Cups like Anthony Ireland and Ryan McLaren - they're no slouchers with the ball.
"But the ball is there to hit and you've got to put it away."
And O'Brien was quick to praise Marshall, who made 102 off 54 balls: "He's great to bat with.
"He's pretty laid back, he talks about anything but cricket between overs, which is good as you zone out for seconds before you get back into your pre-delivery routine.
"We've had a pretty good partnership in Twenty20s overall, we've got the team off to a good start."